Take AIM Magazine Issue 10 Now Available
: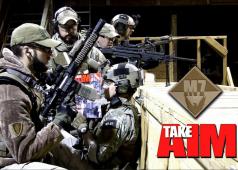 The 10th issue of
Take AIM Magazine North America
is now available. Some nice stories to read in this issue as they have a comparison between the KWA ATP and SOCOM Gear/Echo1 Timberwolf airsoft pistols. Plus you get the chance to win an AK Tactical airsoft rifle and Cybergun's video game title "War Inc."