CAA Airsoft Mag Test. CAA M4 AEG Next?
: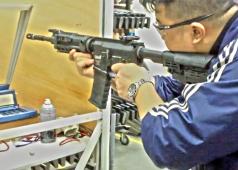 Uploaded last Wednesday,
CAA Airsoft Division
show off their 360-round high capacity AEG magazine. The tester went on a 16-second full auto burst, which indeed shows an impressive feeding capability and that only 1/3 of the BBs loaded were left after the test. This magazine will be available in black and dark earth colours.