Remington got awarded last 20th of September by the US Army to upgrade the existing M24 sniper rifles and rebarrel them from the 7.62mm NATO to .300 Winchester Magnum according to Military Times. Designated as the M24E1, the M24 rifles, with an initial number of 3,600 units, will be mated with the MSR (Modular Sniper Rifle) which basically is a chassis system called the Remington Arms Chassis System or RACS.
The M24E1 will be specifically using a .300 winchestet Magnum and it is required that the scope to be used with this will be the Leupold Mark 4 6.5-20×50mm ERT M5 34mm locking version.  The original Remington MSR can be adjusted to for different calibres as you can change the barrel lengths for .338 Lapua to the 7.62mm NATO. Also required for the M24E1 will be the ability to accept the suppressors. The selected titanium quick detach and attach suppressor with muzzle break is made by AAC (Advanced Armament Corporation).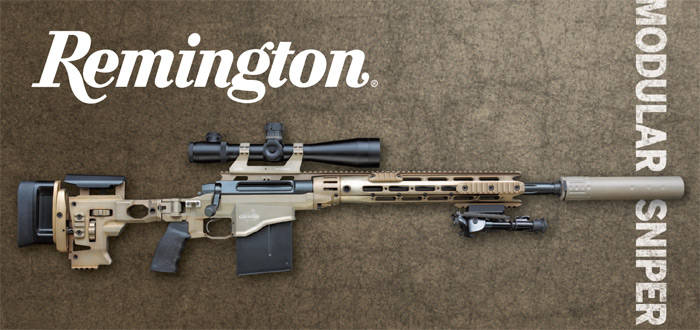 The M24 was redesigned by Remington as it is already an aging rifle and the US military is requiring its existing rifles to be ready to be equipped for night fighting. The M24 was originally designed without allowing additional accessories to be attached and as such Remingtin started the MSR project coming out with the RACS. With the M24E1, it sports a thoroughly 21st Century look with the ability to take more shooting accessories for the snipers such as optics and lasers.
One aspect of the M24E1 is its redesigned stock which can be folded to the right to make it compact and is useful when entering or exiting vehicles given that modern sniper rifles are long. It has an adjustable cheekpad (height, fore/aft), and the buttplate can be adjusted horizontally and vertically to give the shooter the most comfortable shooting position.



[youtube http://www.youtube.com/watch?v=guc9otJ-hC4&fs=1&hl=en_GB&rel=0&hd=1]

You'll notice that the M24E1 departs from the M24 line as it has a 5-round detachable magazine, eliminating the painstaking process of loading the internal magazine that always leads to jamming in the raceway. It is still a manually operated bolt action weapon when deployed.
It's a sexy looking kit that has a venerable tradition. The M24 sniper rifle in airsoft is also a popular one among players, even if it's heavy. Classic Army builds the M24 commercial version and PDI has further enhanced these to perform magnificently.
We're looking forward to an airsoft version of the M24E1 and is preferred to be a gas-powered one. Either Ares Airsoft which has a good history of making such types of airsoft sniper guns, or Classic Army with its experience with the Remington M24 commercial. We just hope they listen and we get what we wish we for.



[youtube http://www.youtube.com/watch?v=ofu_oRV8PrE&fs=1&hl=en_GB&rel=0&hd=1]