Newly added at Evike.com last Good Friday... "This is a custom G&G M4 Carbine with Full Length Free Float RAS designed for use in various combat environments including MOUT and woodland areas. The internals are upgraded with a reinforced version 2 fully upgradeable G&G electric blowback gearbox. The CRANE type stock allows larger batteries to be used for more powerful high speed upgrades. This rifle is easy to customize with a free float aluminum RAS handguard and flat top receiver. Add virtually any accessory to this AEG to customize it to your own missions!
Specifications:




Inner Barrel Length: 363mm


Gearbox: Version 2


Range: 100 feet


Muzzle Velocity: 320-350FPS


Magazine: 450 rounds G&G Hi-cap magazine. (Use all M4 / M16 series Magazine)


Package Includes: AEG, Hi-cap Magazine, Cleaning rod and manual.


Motor: Long Type


Battery: Crane Type (Battery & Charger Not Included.)


BB: 6mm Airsoft bb. Best with Matrix 0.20 / 0.23 / 0.25g bb.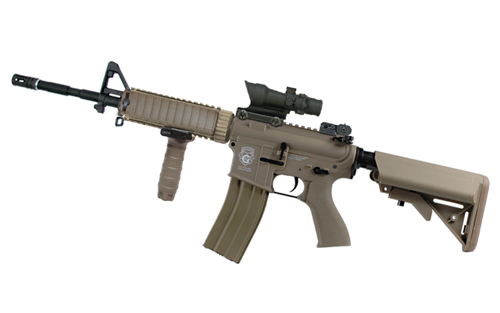 Features:




G&G Combat Machine Blowback Custom with fully upgradeable, metal reinforced gearbox.


Safe / Semi / Fully Automatic Firing models.


Everything is 100% compatible to G&G and Marui series AEG.


Comes with G&G M4 450 round hi-cap magazine.


Adjustable Hopup.


6-Position Retractable Crane Type stock.


High torque long type G&G motor.


Metal gearbox, buffer tube, magazine, switch, pins....(Most of the parts on this AEG are standard G&G quality parts just like the GR16 and Tokyo Marui M4 series.


Limited Edition Jungle Series M4 CQB-R Free Float Rail Interface System. (TAN) (SKU: RIS_MTX_M4TAN)




Manufacturer: G&G - Combat Machine series / Taiwan"