LCT Airsoft L4-RAS-SE AEG Released
: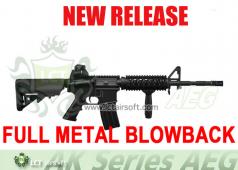 Another product release from
LCT Airsoft
as they announce their Super Economic Version M4 Series with a focus on their L4-RAS-SE AEG (M4 RAS AEG). As with the Super Economic (SE) versions, it means that these are much affordable for airsoft players to get and these are full metal blowback AEGs. We don't know yet the actual retail pricing but if these are full metal blowback M4 AEGs with economical prices, your money can go a long way.