Public Enemy IWA 2013 Day 2 Photos
: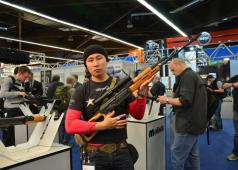 It's the IWA 2013 & Outdoor Classics Day 2 Photos from
Public Enemy
and they go for some of the big name, real deal firearms companies as shown in the photos such as MOLOT and Glock. Still the lure of the airsoft exhibits is much stronger so they go to G&G, RedWolf Airsoft, Bohemia Airsoft, and gear makers such as Helikon Tex. And it seems that Arick can't get his hands off the twins as he has a Day 2 photo with them again.