Public Enemy IWA 2013 Day 1 Photos
: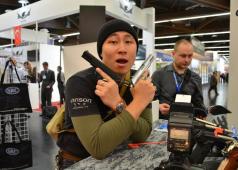 Here are some great photos taken by Arick of
Public Enemy
, showing at a wider angle the IWA 2013 & Outdoor Classics during its first day. You get to see the ICS, Zlatmash, KWA, KRISS Arms, Sphinx, Real Sword, 5.11, BCM, a dog, Trijicon, and many more. Now they also get their own photo of the ASG Twins, always a mainstay in airsoft media photos during the IWA & Outdoor Classics.