SHOEI MKb42(H) Blowback Version Update
: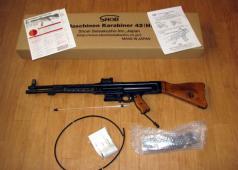 An update for interested collectors as 3 pieces are remaining for this batch of MKB42(H) airsoft blowback rifles from
SHOEI
and also included below is the manual for this... "Dear Friends: Thank you very much for your continued patronage. Now, we manufactured the airsoft version of the MKb42(H) this time. We manufactured only 5pcs. The mechanism of air blowback is almost the same as MP44. Prices are 160,000JPY. This is not released to our website.