New Eagle Force Tracer Units & Silencer
: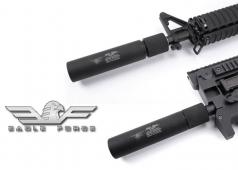 For the beginning of 2013,
Eagle Force
announce three new products comprised of two tracer units and one silencer unit. You can select between the quick attach or regular flourescent tracer which can only be used with 6mm tracer BBs and powered by 4 triple A batteries and the silencer is a quick attach one which means you can attach it without removing the M4 or P90 flashhiders. All of these products have Navy SEAL markings.