Incoming King Arms Blaser R93s & M4s
: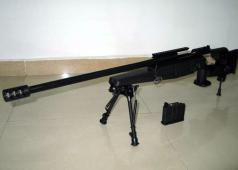 News about incoming products from
King Arms
as announced by Mark before they go to Paris for the Shooting Games Show 2012 this weekend... "Hello everyone! I hope you guys like the newest Kalashnikov Wood Pattern Air Cocking and AEG rifles and the other KA gadgets. I just got back from the factory and there are some things I would like to share with you.
This is almost ready for production, the R93 Tactical 2. Here are some tech info: