ASG APO ASW338LM Asia Version
: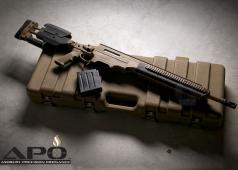 Asian airsoft players can take hear that the ASG's ASW338LM made by VFC is now available for purchase as long as they've got US$850.00 ready. It's in stock right now at
RedWolf Airsoft
... "APO, ASG and VFC teamed up to produce the airsoft Replica to the ASW338LM with MOD1 Chassis. And having the a first glance at it, I am very, very impressed.