SitRep Airsoft e-Zine Issue 5 Now Online
: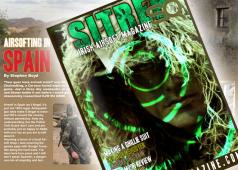 The latest issue of the Irish Airsoft Magazine,
SitRep
, can now be read online and you can also read this issue on this page below. Here's a word from the SitRep Team... "Well, SitRep Magazine is now officially one year old so we'd like to say a huge thank you to all our readers who have made putting this together such a rewarding experience.
We've got a great issue once more with info on gear, sites, games, and more.