Hyperdouraku ICS M4A1 RIS AEG Review
: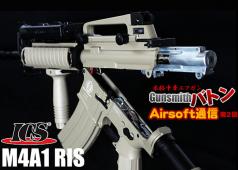 In a departure from the usual review of airsoft guns made in Japan, Hyperdouraku goes Taiwanese this time as Yas reviews the ICS M4 AEG in black and tan colours, describing the unique selling proposition of ICS in the airsoft market. Loads of photos and nicely thought out words in this review, especially from a Japanese airsoft blog that promotes Japan-made airsoft guns.
Read the full review here.