New ARES Airsoft Upgrade Gear Sets
: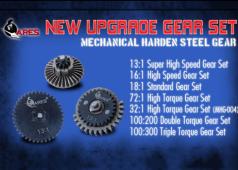 ARES Airsoft
release their series of upgrade gear sets. These are hardened steel mechanical gear sets and you can choose either having a high speed gear or high torque ones. Interestingly, they have some really high torque, double torque, and triple torque ones. Depending on your need, one these sets may just meet your needs.
Ask your retailers if they already these available.