Killbuckets Helps SFAA Towards Having Their Own Airsoft Field
: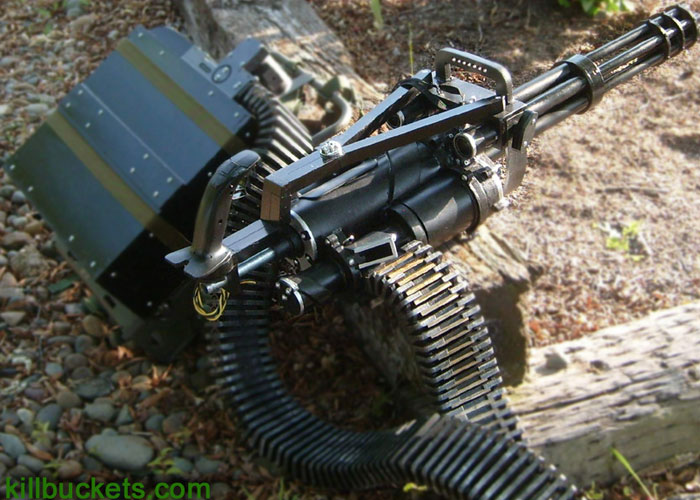 We received this email from Thumpy who is right now occupied with his
Thumpy's 3D House of Airsoft Scoop.it website
that's really on fire nowadays, scooping everything about airsoft from whatever source including real steel and tactical news to share to you. He writes about Killbuckets who has come out of retirement and back to making awesome dummy weapons and highly customised airsoft guns (and considered to be the king of customised dummy and replica guns), and also an avid R/C hobbyist:
This all started late Friday afternoon, and in just 20 minutes we got over 50 likes...and helped put a donor together with a deserving group...and you know them all!!!
"Air-Sharp's Killbucket Makes Dummy Miniguns, custom movie prop weapons, antique replicas."
And, as you can see from THUMPY'S Facebook post, Killbucket is also one hella good fella! He wanted to raise awareness of his
channel
,
website
AND
Facebook page
by giving away a brand new R/C Helicopter to the first 50 Likes on his latest build, a full-sized Mini like the one wielded in the movie "Predator."
We've been SCOOPing the build the last couple of weeks...and decided to motivate THUMPY'S PLATOOON into action....by getting 50 fast likes and then giving the heli to our buddy Dan Stein with the South Florida Airsoft Association. They are trying to raise funds to satisfy their home county's safety requirements to have AMERICA'S FIRST COUNTY SPONSORED AIRSOFT FIELD!
Killbucket agreed well before the numbers were in to DONATE the R/C 'Chopper to Dan for fundraising and can we say, WHAT AN AMAZING GESTURE!
See all of KILLER's Builds by clicking on the link above, and find out how YOU can help Dan and the SFAA...and build a prototype for OTHER COUNTY SPONSORED AIRSOFT/MILSIM FIELDS near you!....at this link:
http://sf-aa.org
.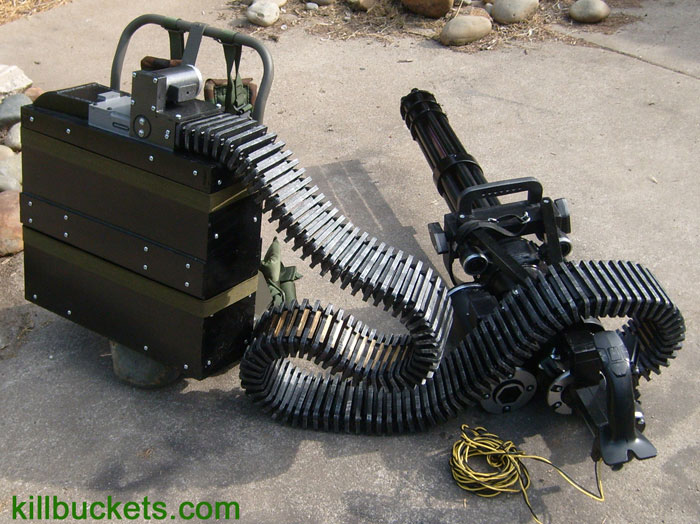 Killbuckets is a gem in the airsoft community, being able to build such awesome custom airsoft guns, especially the Airs-Sharp Airsoft Browning M1919, and his coming back means that there will be more plans to be released that either you can get for a fee or sometimes even free. As part of recognising his efforts and contributions, just subscribing or liking his Facebook page, visiting this website and spreading word around about his projects would come a long way. So far, Thumpy's efforts have been able to achieve the goal that was agreed upon though Killbuckets went ahead with his contribution to the South Florida Airsoft Association (SFAA) without waiting for the goal to be reached. He still has something to share, whether to help other hobbyists make their own replica designs, or a local airsoft community build their own airsoft field.
As for the SFAA, they still are on their way to
reaching the US$30,000 goal
to have their own airsoft field as part of the deal from the county to allow them play in an idle public land. As of the moment they have been busy organising raffle events and selling merchandise such as T-Shirts to collect more funds. Either you join in their fundraising events, or if you cannot, you can send a donation via their website.
These are just some of the efforts of concerned individuals, such as Thumpy, crazyNCman, and now Killbuckets to help the SFAA. Though their individual contributions are not enough, these should help encourage more to chip-in. Even if you're not from South Florida, you can still help and anything that you can contribute towards the SFAA's goal will be appreciated.
~