Thumpy: KWA Performance Industries Team Up With Khyber Training
:
by OptimusPrime on November 16, 2011 | 0 comments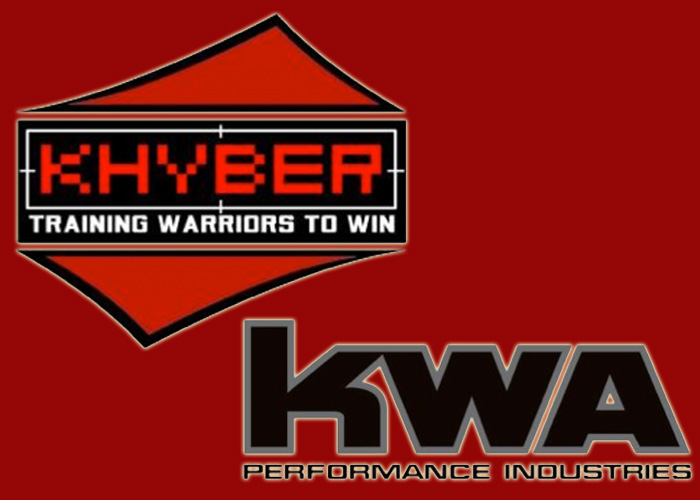 Thumpy has been very much on the look out for news about companies looking into airsoft as part of tactical training. He first gave us a heads up about Haley Strategic Partners where Haley Travis affirms that airsoft can be used for cross training for real steel users. And now, in the business front, Khyber Interactive Associates (aka Khyber Training) have teamed-up with KWA Performance Industries in a strategic partnership.
In his blog entry,
Thumpy's 3-D House of Airsoft
says "Interesting to see how many real-steel trainers are coming around to using HIGH QUALITY and INNOVATIVE guns from companies like KWA for indoor training. Advantages are numerous, including minimal prep to fire in real environments, economic advantages vs. other 'simulation' rounds and guns, and enforcement via a tolerable 'pain penalty,' that does not inhibit a shooter from reacting as they would in a real-life situation. And, the more real-steel shooter get their hands on pistols like the ATP, and recommend updates/upgrades, the better those products become for ALL Airsofters, too."
The value proposition of airsoft in tactical training nowadays is now too hard to ignore. Apart from the realistic detailing of real steel guns and even handling, the low cost of using plastic BBs to run exercises over and over again, and the sheer safety that can be provided in airsoft is very much compelling that tactical training companies, law enforcement and military organisations are turning towards airsoft.
This can be used in a wider-scale, with airsoft in use in a lot of countries nowadays, enthusiasts and hobbyists would want to have some degree of tactical training to be proficient in skirmishes and large scale airsoft events. In previous discussions among Popular Airsoft operators ever since it was founded, airsoft enthusiasts can actually be tapped as reserve units in armed forces around the world without affecting much the budgets of these organisations. They already have the gear, the airsoft guns, and the energy to be invited in field training exercises. Milsim players are even a better group, as they prefer playing realistic scenarios.
Chalk another affirmation for airsoft for tactical training. Press release from Khyber Interactive Associates on this partnership below:
Khyber Interactive Associates and KWA Performance Industries Form Strategic Partnership
Fort Mohave, AZ – November 3, 2011 -
Khyber Interactive Associates
, a world-class emergency response training, research and consulting company, today announced that they have partnered with
KWA Performance Industries
, the leading manufacturer of heavy duty airsoft products designed for professional training use by law enforcement and military training professionals.
The KWA professional series of airsoft training weapons were designed through direct consultation with a number of top tactical and firearms trainers including Khyber's founder and President, Wes Doss. Khyber plans to implement the use of
KWA professional products
into their existing and forth coming training programs where force-on-force training is part of the curriculum.
According to Michael Hou, Senior Account Manager at
KWA
, "We are excited to partner with
Khyber
to incorporate KWA professional grade airsoft products into their force-on-force training programs. Khyber's extensive knowledge and experience within the tactical community will be valuable in future product development."
Khyber Founder Wes Doss had this to say about the partnership, "We at
Khyber
are beyond pleased to be actively working with KWA to further the use of airsoft in the professional training world. KWA makes the best product for what we do at Khyber. Not only are we able to hand students a training weapon similar in weight and feel to their actual weapon, KWA products gives us the flexibility to train literally anywhere!"
KWA professional products
are built from the ground up to be compete 1:1 scale replicas of their real firearm counterpart, allowing for full compatibility with gear and accessories, making the training experience more dynamic and fulfilling.
Khyber Interactive Associates
is developing operator courses and instructor development courses around the use of these unique products and actively integrating them into many of the existing training programs currently offered.
Khyber
currently has training scheduled with facilities in West Virginia, Texas, Arizona, California, Colorado, Massachusetts, Barbados, Brazil, and other host facilities around the country. To find out more about Khyber Interactive Associates please log on to
www.khybertraining.com
. For additional news and updates visit Khyber's official
Facebook page
or follow them on Twitter at @KhyberTraining.
About Khyber Interactive Associates, LLC:
Arizona based Khyber Interactive Associates (Khyber), founded in 1992, is a world-class emergency response training, research and consulting company recognized world-wide for delivering unparalleled tactical training services to Law Enforcement, Military, security and Private Sector clients. The company, led by world-renowned tactical subject matter expert, Wes Doss, has been providing comprehensive training and operational support to warriors in the United States, Canada, Central America, Asia and Europe for over two decades.
Khyber's proven real-world training programs are designed to enhance the conditioning, mechanical skills and psychological performance of the warriors that they train. Khyber programs, available for both individuals and teams, are offered at select training facilities and host agencies world-wide. Khyber's specialized services range from precision weapons and VIP security courses to defense tactics and K9 operations programs. For more information on Khyber, or to view the full range of programs that they offer, please log on to
www.Kybertraining.com
.
About KWA Performance Industries Inc.:
Airsoft technology in tactical training applications has gained momentum and acceptance over recent years. Law enforcement agencies and military units have integrated airsoft training weapons into their force on force training programs because of the realism and low cost of operation. KWA professional training products were developed in consultation with top tactical trainers from around the world.
Every model in the series is designed to be 1:1 in scale to their real firearm counterpart, allowing for full compatibility with gear and accessories. Recoil action, fire controls, and safety features are also recreated for more dynamic training experience. In a time when diminishing budgets are a reality, our products offer a low cost solution to your training needs. Every 6mm BB costs a fraction of other training rounds available on the market, making KWA the logical choice. For more information, please contact us at
www.kwausa.com
.