Top Airsoft Society based in France is organising the 1st European Airsoft Show that will be held from the 30th of April to the 1st of May 2011 in Strasbourg. They also released their 2011 Airsoft Calendar, though we suggest that this is NSFW. You can download the Exhibit details by clicking on the poster below, and you can contact them if you want a version in English. Also available for download for those interested in distributing their airsoft calendar by clicking on the cover image down below too.
"Sir, Let me now come to you to give you a record of the exhibition we are organizing next year in the famous city of Strasbourg, best known for its European parliament. The aim of this exhibition is to introduce a wide audience, the true face of Airsoft, in all its forms. Indeed, the show we have planned several show on stage, a television and various play areas for dynamic demonstrations. Players and professionals will come together to make these two days a great feast. But this is not the only surprise that awaits you.
We offer a living room on 'Stargate.' You will have the opportunity to promote your products on flat screens, to showcase your news with a parade of 16 models women and men. To the accompaniment on this parade, we are fortunate to have Miss Elodie Gossuin, a former Miss France and Miss Europe but Clara Morgane.
Then if you come as a journalist, exhibitor, a professional, you'll be invited on Saturday evening at a cocktail reception accompanied by an orchestra. A number of personality will be present throughout the weekend. To assist us in organizing this event we called a company event-coordinating all of the animation.
Now the project you like, you would like to join us anything, it's easy, just fill out the attached file and return the completed documents and payment of your stand. If you are a professional airsoft, supplier, manufacturer or retailer, we make you an offer exceptional 30% discount on a booth minimum 18 sqm.
TOP AIRSOFT society is also pleased to present its first calendar. If coverage has caught your attention, we invite you to discover the remaining 12 months behind it. You are now eager to sell and distribute your own company. Possible. Contact us at christophe@topairsoft.fr.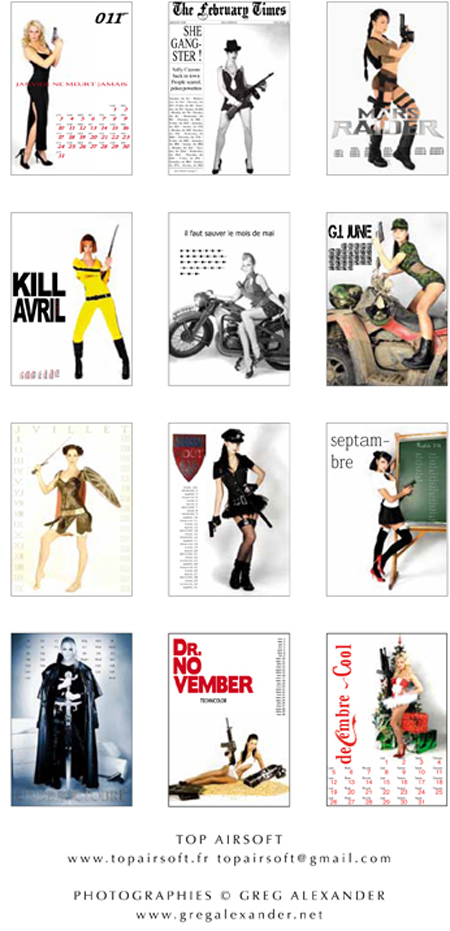 The schedule you have proposed for the modest sum of 10 euros HT unit. Depending on the quantity you want, the price will decline. The calendar is currently in French but for those who wish, we can change it and rewrite it in English.
Postage and shipping are available. Payment is by bank transfer, payable to the order immediately.
We remain at your disposal for any further information.
Sincerely,
M BILIEN
Manager Communication"