Nick Petrus, the founder of USASOC PDF Airsoft Magazine is now back with Operator Magazine... "Hi Guys, Just wanted to introduce myself and our new online, free publication. I'm Nick Petrus - Owner & Marketing Director for Operator Magazine - The Operators' Premier Free Publication. Simply put, Operator is the premier source for tactical Operators - hint our name. Whether within the military, law enforcement, contracting, or MILSIM fields, we truly believe our publication will be a valuable source of knowledge and entertainment for all of your tactical interests and needs. We operate on three core principals. Quality. Dynamic. Qualified - also known as QDQ, which you will often see referenced within our issues.
Founded by the original creator of U.S.A.S.O.C. - The Magazine, along with the assistance of a select few current and former military Special Operations "ol' pals", Operator Magazine provides some of the best insight into the latest gear, MISIM weaponry, tactics, events, loadout kits, team and retailer spotlights, and much more.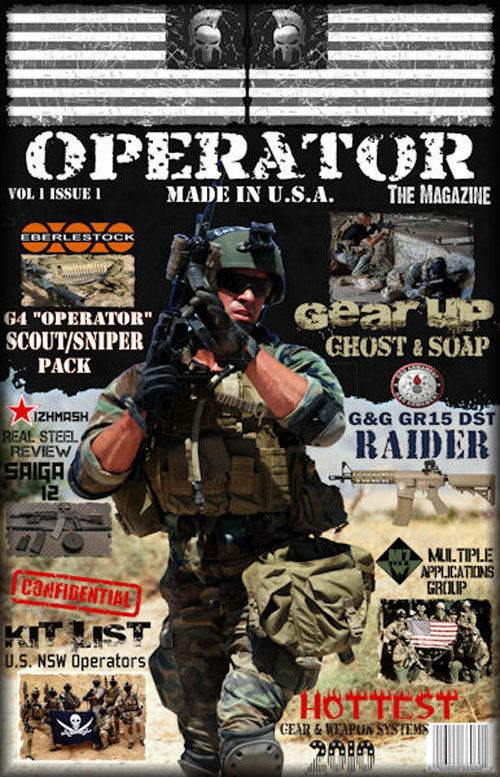 Our first issue has just been released, and we wanted to let everyone know to go grab their copy today! What's featured in our 1st issue?


Lock N' Load: M7 Group


Hottest Gear on the Market - 2010


Real Steel Review: Saiga-12


Gear Review: AN/PEQ-15 Advanced Target Pointer Illuminator Aiming Light (ATPIAL) Replica


Gear Review: G&G GR15 Raider DST


Gear Review: Leapers' 3-9x40 A.O. Range Estimating Mil-Dot Red/Green Illuminating/Zero-Locking Scope


Gear Review: Eberlestock G4 Operator Pack


Gear Up: Ghost & Soap


Kit List: U.S. NSW Operators


And much more included, photos, teams, discounts, and much more in our 140+ paged issue!






[youtube http://www.youtube.com/watch?v=eyS6_k_Ztj8&fs=1&hl=en_US&rel=0&hd=1]

Download today at: http://www.operator-magazine.com/Issues.html
God Bless & Best Wishes,
 Nick Petrus - Owner & Marketing Director"