It sure seems so and we thought it is inevitable as there is one ACM manufacturer that really intends to do just that and did it after over a year. If you may have forgotten, there was rumour and actually backed up with evidence that Army Armament, which you all know is an ACM manufacturer of airsoft pistols, is planning to come up with the Tokyo Marui M4 SOPMOD with the next generation blowback and recoil clone.
It was reported in May 2009 by a Thai airsoft website and got a few discussions at Arnies Airsoft. You can check the MEU airsoft pistol brochure of Army Armament (whose font style is like a cloned G&G Armament Brand) and it was in the inner pages that they plan to make one. If you look at the photos below, you'll notice that they plan to have the same gearbox and recoil mechanisms like the TM M4 SOPMOD.

There's not much reverse-engineering of the Tokyo Marui M4 SOPMOD that needs to be done as it does not have an electrical processing unit like some AEG guns from Systema and ICS, everything's still mechanical so having a SOPMOD clone is very much a possibility. However, Tokyo Marui has an international patent on the design and Army Armament might be walking on dangerous territory. We thought that this would be wishful thinking.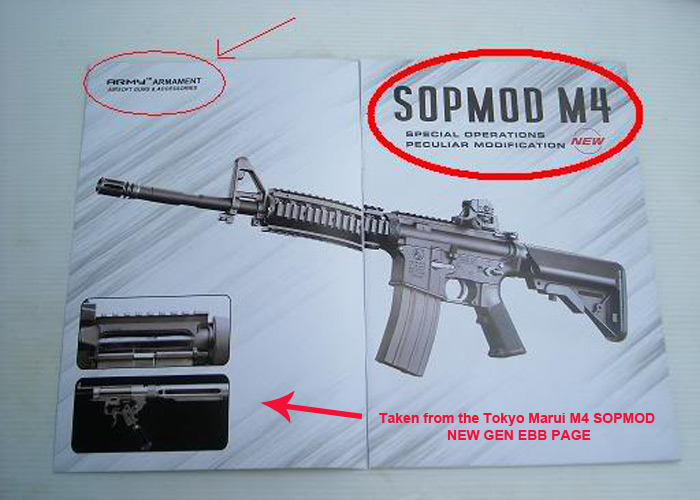 But then Army Armament seemed to have come through with their promise, and the Army M4 EBB is now at Gunner Airsoft which you can buy for US$163. This would be to the delight of many budget-conscious players and third party upgrade parts makers supporting the TM M4 SOPMOD and its siblings. Gunner Airsoft says that is an electric blowback with a 1-piece barrel. It is full metal and comes wtih battery, charger, high capacity magazine, and can use the TM new gen hi-capacity or low-capacity magazine.
It is called the Army R43 M4 EBB, and we cannot confirm if it also uses the same M4 SOPMOD battery or utilizes standard AEG batteries. We assume the latter or else Gunner Airsoft would have mentiond such feature. It is said to fire 360fps outside of the box (at .20). The photos at Gunner Airsoft also show some Colt Markings, if you look carefully as the Gunner Airsoft logo has covered the markings area. It does not sport the M4 RIS rail/handguard and uses the SOCOM M4A1 handguard.

We still have many questions, but even if just has the recoil and blowback, and does away the SOPMOD Battery, Army Armament have already achieved and objective of starting another clone war with the Tokyo Marui technology. If other ACM and non-ACM manufacturers see that Army Armament gets away without any legal backlash from Tokyo Marui, then they may just start doing their own TM clones and improving on the design. This is what happened with the fast growth of Airsoft in the recent years.
It is a problem for Tokyo Marui as they do not really have representatives outside of Japan and access to Tokyo Marui products are through other sellers, not directly from them. If they do not notice this development, then the market they have for themselves: being the only electric blowback and recoil AEG manufacturer, is not theirs alone anymore .
With intellectual property enforcement in the airsoft market increasing intensity, we may expect it to get even more intense if Tokyo Marui gets into the fray and enforce its patent. If they do, then better grab the ARMY R43 M4 before Army Armament gets a cease and desist order from the courts, especially in Hong Kong. It might be the cheapest alternative to having the TM Next Generation AEG.