Optimus Prime may just wring my neck for being such a lazy pig. But anyway, let me tell you more, or rather Barrett to be more precise, to tell you more about their Multi-Role Adaptive Design Rifle (MRAD) which is aimed at the US SOCOM Precision Sniper Rifle Program. (PSR). They have released further details and uploaded a video at Youtube.com for those interested in knowing more about the rifle.



[youtube http://www.youtube.com/watch?v=ykglRtlfOcA&fs=1&hl=en_US&rel=0&hd=1]

Among its specifications and exploded view below:


Bolt guide acts as a dust cover to reduce contaminants


Accepts standard M4/M16 pistol grips


Ambidextrous magazine release


Front-loading barrel design for caliber interchangeability


Single button for length of pull adjustment


Combat-proof trigger module removable without tools


Folding stock provides compact mobility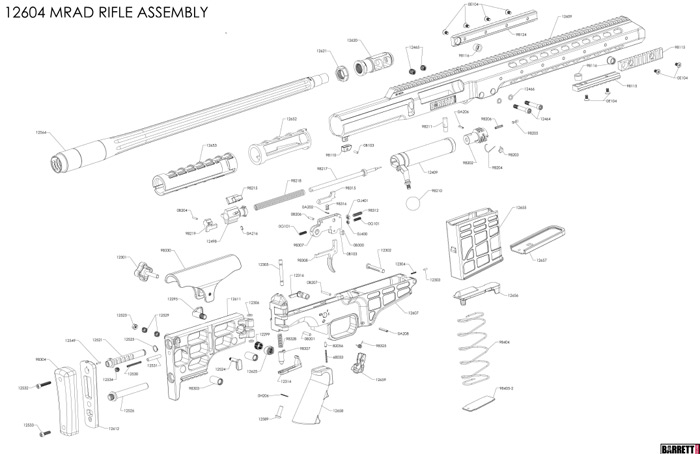 We just hope that SOCOM Gear since they hold the trademark for Barrett Rifles for use in airsoft would start looking into the development of the MRAD for airsoft market after the real steel version gets released next year. Corporate text FROM Barrett about the MRAD follows below:
The MRAD rifle's user-changeable barrel system is just one example of this hardworking gun's modularity. The precision-grade barrel can be removed by simply unscrewing two bolts using a standard Torx wrench. This unique design paves the way for future caliber interchangeability and serviceability. Maintenance and logistical burdens are reduced by allowing barrel replacement at the user level.
The MRAD also boasts Barrett's new trigger module, which is easily accessed for maintenance, adjustment and replacement. This match-grade trigger is drop-fire-proof and combat-ready. Both the ambidextrous thumb-operated safety and magazine release can be used intuitively while retaining a firing grip and cheek weld.
Integrated into the MRAD rifle's 7000 series aluminum upper receiver is an M1913 rail with 30 MOA taper. At 21.75 inches, the rail offers plenty of space for mounting additional optical accessories. The configurable side and bottom rails can also hold a number of accessories and are easily repositioned.
The stock is where the MRAD rifle's adaptability truly shines. It's foldable for enhanced portability yet locks in as solid as a fixed-stock rifle, creating a platform for consistent firing. When folded, the stock latches around the bolt for added security during transport. Because the stock folds to the bolt handle side of the action, the rifle is the same width overall, folded or extended.
Made of a temperature-resistant polymer, the adjustable cheek piece also offers a consistent rifle-to-user contact point and can be adjusted from either side. The rifle's length of pull can be set to five different positions with the push of a single button.
From its quick-detach sling mounts to the Barrett Multi-Role Brown color of the rifle that blends into any environment—every detail of the MRAD has been carefully designed to create one thing: a high-performance rifle you can truly make your own.
MRAD will become available Mid-Year 2011.