PRESS RELEASE. After a year and a half of construction, Umarex USA "shot" the ribbon on Wednesday, October 13th, 2010, to mark the official opening of operations at their new facility. Located at Chaffee Crossing in Fort Smith, Arkansas, the new North American headquarters for Umarex is just six miles from their previous location. Over 150 people including area citizens, state and city officials, and Umarex employees gathered at the front of the new building for the ceremony.
In lieu of a ribbon cutting, the event was marked by a ribbon "shooting", where master gunsmith, Danny Williams, used an airsoft rifle to "cut" the ribbon by shooting a balloon at the ribbon's center which was stretched across Umarex USA's main entrance. Service techs, Ryan Hunt and Sean Shipman, fired five blank rounds each to further mark the official beginning of operations at the new facility.
The investment in the new facility was created out of the growth that Umarex USA has experienced since their leasing of a 30,000 square foot Fort Smith building in June of 2006. All operations have now moved from that facility to the new building, which has nearly 117,000 square foot of floor space with 30,000 square feet dedicated for future assembly and manufacturing. Adam Blalock, President and CEO of Umarex USA, attributed the recent success to the partners and employees of Umarex USA. "The support we have received from all of our partners, and our caring group of employees has provided us with the means to be successful in the economic situation that our country is now experiencing," Blalock stated at the grand opening.
Martin Wonisch of the PW Group, who traveled from Arnsberg, Germany for the event, stated, "We are proud of the success of Umarex USA and all that they have done in such a short amount of time and we congratulate them for their successes. It is a proof of the dedication from the employees that has allowed for such a large amount of success in a short amount of time."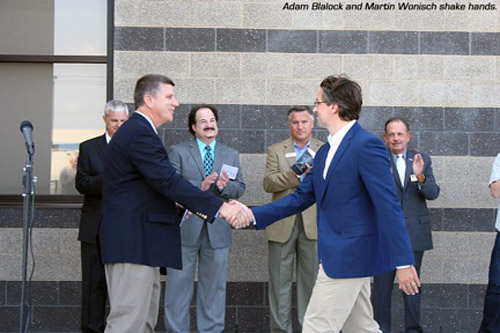 Umarex USA estimates to employ 60 to 120 people over the next three years. This is in addition to the more than 80 sales representatives located throughout the USA, Canada, and Mexico. "We chose Fort Smith for the people, for the work ethic, the integrity, and because of the excitement for opportunity here." stated Blalock. "The City of Ft. Smith, the Regional Chamber of Commerce, the Fort Chaffee Redevelopment Authority, and the State of Arkansas have all been great to work with and tremendously supportive as we've developed this project. We are most grateful. Our whole team is excited about our new Chaffee Crossing address."
The state of the art facility boasts such features as a 50-meter private indoor gun range, quality control lab, gunsmith department, and a sophisticated shipping and receiving distribution center. The building is also equipped with high-tech video conferencing and audio visual capabilities. Umarex USA has also incorporated several "green" concepts into their building and operations including motion activated lighting, recycling, environmentally friendly building materials, skylights, and low energy consuming heating and cooling standards.
Umarex has been an expert in airguns for more than 35 years, an expertise that stems from the close association with Walther firearms. They manufacture and market airguns, paintball products, airsoft guns, blank-firing guns, self-defense weapons, firearms, and laser-based measurement and leveling instruments. Umarex USA's shooting sports products are marketed under the brand names: RWS, Walther, Hämmerli, Beretta, Smith & Wesson, Browning, Heckler & Koch, Ruger, Desert Eagle, RAM, Colt, and Regent. Umarex USA products can be found at both national and local sporting goods retailers throughout North America.
For more information visit UmarexUSA.com.