Our good friend, Slickaxe of NLAirsoft, has emailed us news about the efforts of the Nederlandse Airsoft Belangen Vereniging (NABV or the Dutch Airsoft Association), to have airsoft guns legal in their country. The ownership of 1:1 airsoft replicas is illegal, and with no possibility of permit to own, since they look like the real thing, according to Dutch laws. Airsoft as a sport is legal, but 1:1 gun replicas are Category 1 (illegal without any possibility of getting a licence) that it's a situation for airsoft players to rather play at a nearby EU country that allow 1:1 replicas for games.
The NABV were able to have the Star Ikazuchi AEG, which I assume, also goes to the Jing Gong Thundermaul, to be categorised as a Category IV gun, (legal to own and operate without a licence). The NABV were working for a long time, since 2004 to lobby that airsoft guns be given a Category IV status, and this development is good news indeed.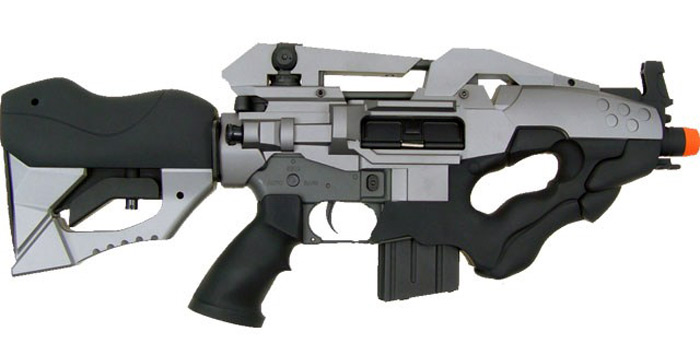 The Ikazuchi/Thundermaul easily meets the requirements as: 1) It is not a 1:1 replica of a gun; and 2) it does not look like a real gun as it's based on an anime gun, the Seburo, which of course is a work of fiction. You can carry it public and people will think of it as a toy rather than an intimidating firearm replica.
For others, it is a small step, but for the Dutch players, it is a big one. The NABV has its a foot at the door and will try to work on other airsoft guns to be certified for legal use. It may take a while, but at least they are working within the legal framework to have airsoft played in their country. But then, they still need to travel outside of the Netherlands to play games that would require 1:1 replicas.
Now, it's just a matter of supply if the Ikazuchi/Thundermaul AEG is readily available for Dutch players as we have seen just a few at some retailers. For those who have their own copy and are not using it, it would be great to sell it to Dutch players. Dutch players who will be importing such AEG will need to contact the NABV to get a copy of the certification of the Ikazuchi as a Category IV gun issued by the Ministry of Justice.
There might be a future for anime guns then, and that future is in the Netherlands while the NABV works on airsoft guns based on contemporary or period guns certified for legal use in their country. Let's give our Dutch friends a pat on the back for such great work!
Those airsoft players who might want to play fantasy airsoft games, or Cosplay airsoft games, may just find such games in the Netherlands. It would be a great thing to be able to play airsoft in Holland for the first time.
Ghost in the Shell-themed event anyone?