It is now available to those waiting for something like this to come out. Just check the SOCOM Gear page for more information... "The SOCOM Gear Full Metal M4 Noveske 7in AEG is an excellent high end CQB AEG. The body and barrel are made from aluminum. The pistol grip is thinner to emulate a real gun's pistol grip. The battery and wires are cleverly hidden in the adjustable crane stock. The Noveske 7n free float rail system is also made from aluminum and provides a lightweight but sturdy platform for mounting accessories like vertical grips and flashlights. The charging handle, bolt catch/release, function just like the real thing. The officially licensed Noveske KX3 flash hider add a nice flush look to the front of the AEG.
Specifications:


Muzzle Velocity: 340-360FPS


Magazine Capacity: 118 rounds


Package Includes: gun, magazine, kx3 flash hider


Battery and charger are not included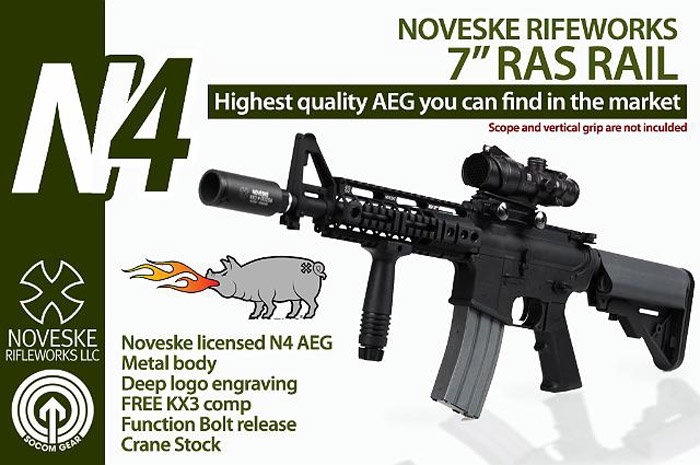 Features:


Deep trademark stamping


Aluminum Construction


Officially Licensed


Functional Charging Handle


Functional Bolt Catch


Thin Pistol Grip


Crane Stock


One Piece Hop Up"