eHobby Asia have these customised G&P Gas Blowback Rifles with the Magpul PTS MOE furniture fitted with the ERGO Z-Rail for US$410 and you can choose between Foliage Green or Olive Drab colours... "Two Piece Replacement Handguard Rail System from ERGO Grip (Falcon Industries). We would like to introduce this unique light weight and low profile of Z Rail that makes it one of the most comfortable on the market. Equipped on G&P WOCX Airsoft Blow Back Rifle Series, this baby looks sexy with whatever tactical accessories on it.
Features:


Based on BRAND NEW WOC X-Series G&P Custom Gas Blowback Rifle!


'X' stand for "Extreme Affordable", apart from original WOC Steel Version, this series adopt Lightweight Aluminum Parts to upgrade both internal & external assembly.


Made by aluminum alloy with special treated to enhance its strength & durability based on WA M4 Gas Blow Back Rifle System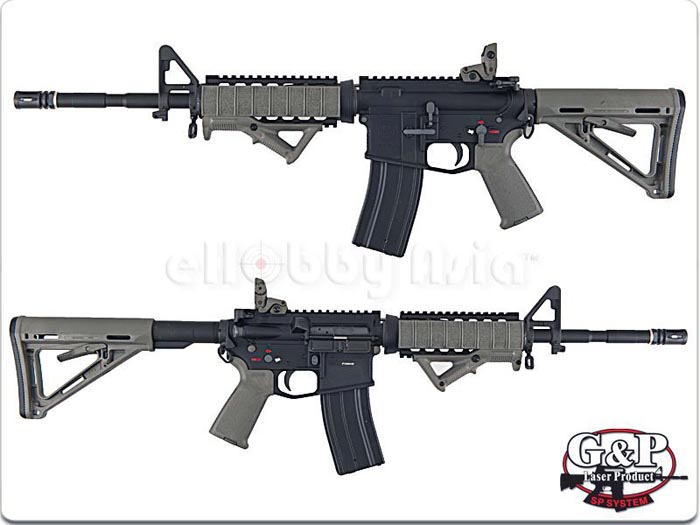 Installed WA Complete Bolt Carrier (Negative Pressure) (WP113) - provide steadier output whilst reducing the chances of misfires


Functional Metal Bolt Carrier


All parts built from lightweight Aluminum Alloy, robust but yet affordable


Offer Powerful 380FPS (w/ Top Gas) without modification


Custom Works:


MAGPUL PTS MOE® Stock (MAGPUL-033) - featuring Friction Locking Function and the Ambidextrous Sling Mount Connection Points


MAGPUL PTS ASAP™ Sling Mount (MAGPUL-048) - Ambidextrous Design, 180 degrees range of motion of the sling attachment point


MAGPUL PTS Pistol Grip (MAGPUL-047) - Storage Compartment for small objects or batteries


Magpul PTS Back-Up Rear Sight (MAGPUL-076) - Spring Loaded Flip-Up system, release lever can be reached on left, right & top position


MAGPUL AFG™ Angled Fore-Grip (MAGPUL-073) - rail-mounted forward grip/index point designed to improve weapon ergonomics and increase shooter speed and efficiency


MAGPUL XT Texture Rail Cover (MAGPUL-009)


Don't forget to choose MS2 Multi-Mission Sling to enjoy Fast transition from Single-Point® to Two-Point configuration"