For those with enough dough to throw, you can get this custom gun based on the Systema MA1 CQB-R Max PTW as this costs US$1,353.00 at RedWolf Airsoft... "Redwolf Custom guns are known world wide for their supreme quality and performance but it is the real gems that RWC is truly famous for. RWC makes a lot of excellent pieces but once in a while something really sexy comes along. This weapon is not just good, it is not just great; this gun is a multi-tiered masterpiece with excellence on many levels.
At its core it is a Systema PTW Professional Training Weapon M4A1 CQBR MAX. Designed for police and military training purposes, the Systema PTW is the ultimate rifle for airsoft lovers. Every part of the gun fits together perfectly, with precise fitting for a solid piece. More then a mere toy, real steel size, weight and real balance. With all internal components tuned for extreme performance out of the box with an M130 cylinder set cranking out over 400 fps with an excellent rate of fire and world renowned consistency and reliability. Split design type gearbox allows you to swap in and out cylinder sets very quickly to change power levels so you can separately purchase alternative cylinders for higher and lower power if you need more modularity.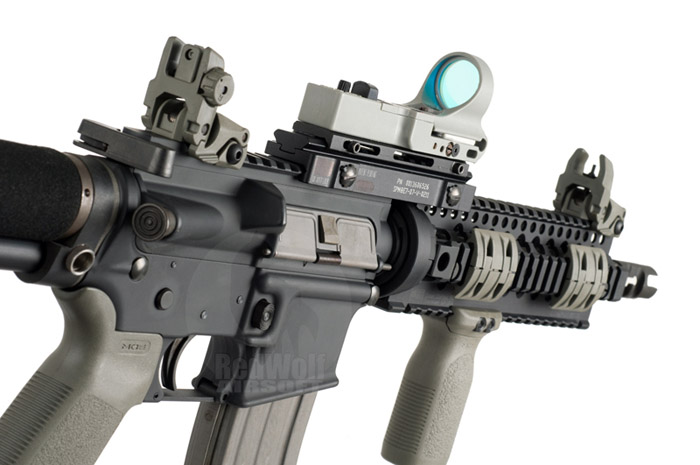 The skeleton stock keeps the weapon light but offers a rock solid short type stock for rapid movement and aiming whilst maintaining a proper shouldering and comfortable cheek weld in close quarter environments. The DD 9 inch rail installed offers a compact, mid weight all metal rock solid RAS with aggressive styling. The Magpul rail panels, PTS MOE grip, RVG and set of MBUS sights add a flare of practical ergonomics blended with 21st century flashy tactical status. Topped off with a quick throw lever mounted top tier red dot reflex sight is the competition cherry on the top of this tactical short barreled rifle masterpiece."