RedWolf Airsoft offers you this G&G product that Al Pacino used in the moviet HEAT... "G&G joins the club, a small but proud little niche of Airsoft recreating this classic contemporary assault rifle. An all-metal weapon (with the exception of the polymer handguard), this weapon features fairly realistic properties.
The real steel comes in at about 3.8 kg (8.4 lbs) and 35/26 inches long (stock extended/folded), this piece is only a couple of inches off and a hundred grams or so heavy not to mention a magazine that is fractions of an inch off the real thing. The fire selector grouping includes both a full auto and 3-round burst position but this is only an aesthetic replication of the real steal, this weapons burst setting is just another full auto selector position.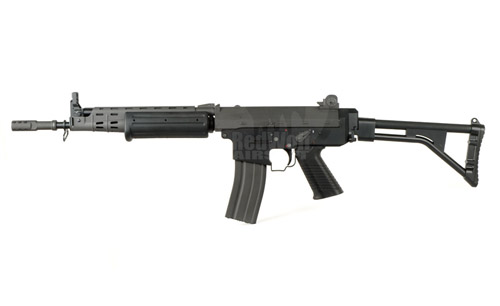 Front wired, the interior cavity of the handguard snugly secures a small 8.4v on one side; a nunchuck style battery could easily be accommodated by straddling the cross-connect wire under the outer barrel storing the dual-stick battery symmetrically inside the foreguard. We did test, it will not fit an AK type stick 9.6v as the battery is just a little bit too long but there is theoretically enough space for 3 and a half cells on each side so you could accommodate two 8.4v batteries (or some nutty custom 16.8v for that matter). Furthermore, the capacious interior could more then likely fit the smaller sized LiPo batteries although exactly which ones you should probably check with us (as LiPo batteries come a broad variety of shapes and sizes).



Not including a battery, on 8.4v it shoots at a modest rate of fire and about normal on a 9.6v making it perform pretty benchmark medium out of the box but at 365 fps its power is certainly good enough to handle out ranges. That said, the internals are modifiable so custom work for custom performance is certainly possible. The weapon accepts standard STANAG type M16 magazines so purchasing additional ones will be easy as it gets.



The G&G GF-76 comes in different barrel length variants."