RedWolf Airsoft is now accepting pre-orders of this and you have already watched the video demo we've shown in our IWA 2010 reports... "The original Airsoft Innovations Tornado Grenade brought us the first reliable area effect yield airsoft pellet grenade to date. The original utilized a timed delay element that utilized an air choke to reliably delay the trigger. This variant of the Tornado Grenade utilizes a similar trigger but does away with the air choke and replaces it with an impact trigger assembly that causes the grenade to immediately detonate upon hard contact with a solid surface
The original grenade replicates real steel function by utilizing a pre-determined period of time prior to detonation requiring an operator to either time his throws or 'cook off' some delay in order to successfully hit a target; this is tricky on best of days. This new version removes delay entirely allowing the operator to simply throw the device for immediate effect on contact.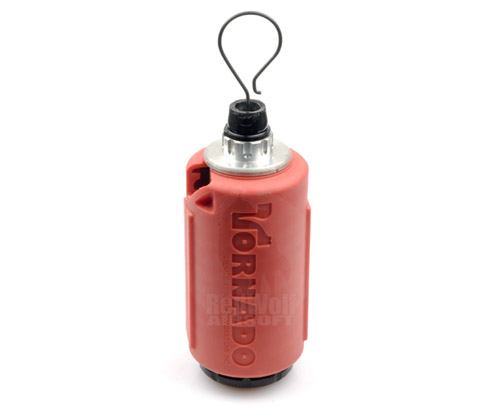 Whilst a timed grenade is much better for defensive uses such as combining the advantages of area effect and time delay to put distance between the operator and opfor, the impact variant is much more suited for offensive uses such as taking advantage of it's immediacy as a convenient quick-draw force multiplier. Conversely, the design maintains the robustness and reliability of a well greased version 3 gearbox, ensuring that it goes off in opfor's face instead of your own. While the original may have had slightly unpredictable timing, this variant of the Tornado Grenade forgoes the timing element entirely for a new, far more consistent mechanism guaranteed to go off on any hard surface.


This version of the Airsoft Innovations Crash Impact Grenade is Rage Red


For more details and a general product review do be sure to check out our review video on Redwolf TV:"
­[youtube http://www.youtube.com/watch?v=MpNjZXvPcCg&hl=en_GB&fs=1&]