Most of the time I was hanging out with the SRC team and we had three dinners together but I never actually covered their booth here. I would like to correct that and tell you guys: Whistler finally finished the whole line of their MP series. The last problematic piece was the rubber hand guard over the MP5 SD silencer but now that's out of the way too. Now all these great AEGs are already available (probably your best bet is Airsoft Global but they don't usually t carry the whole range) and took these guys many many long overtime hours to actually even be on the show this year.
Solid built, great gearbox and strong motor are all nice selling points. It won't be compatibel with the TM aftermarket furniture because this MP-5 is close to the real gun in terms of dimensions, feel and looks.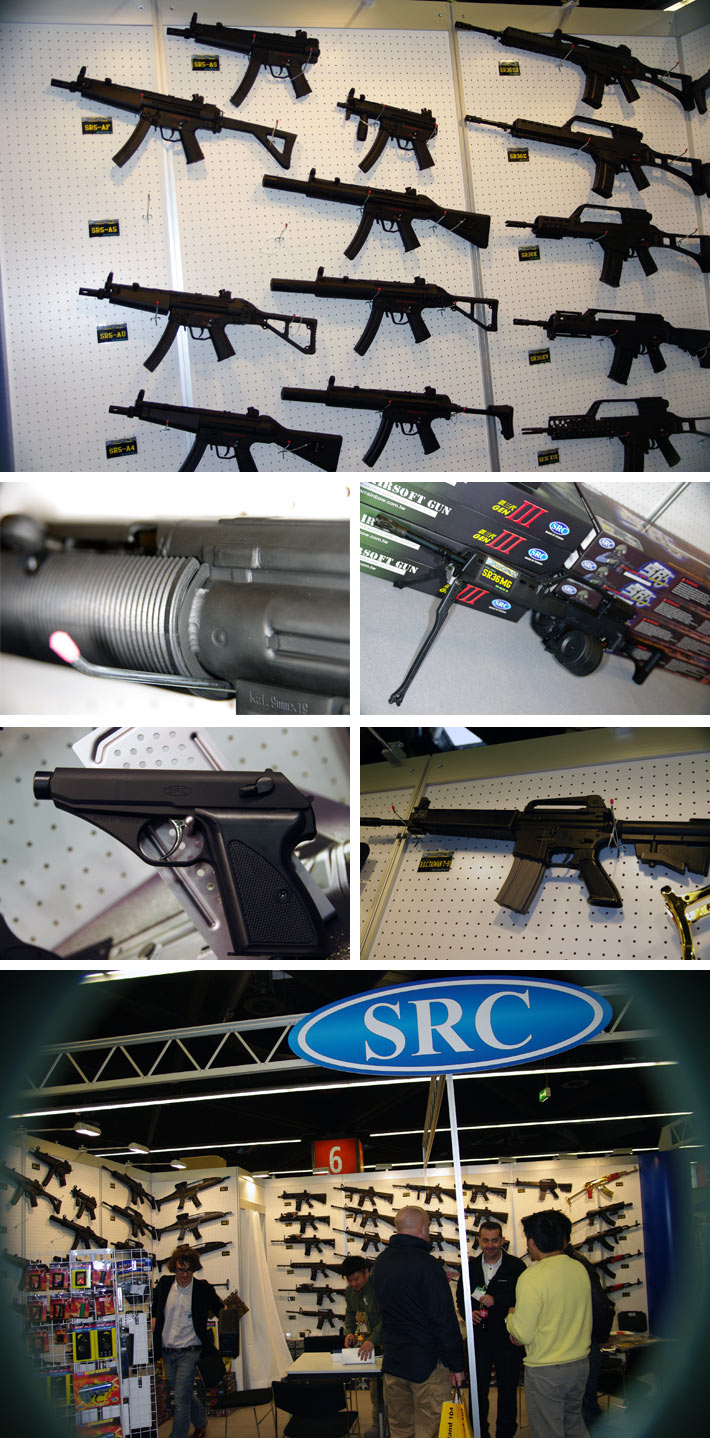 The IWA went down quiet or at least I did not witness events like things happened at the ShotShow....until I visited the 5.11 booth. I placed my visit to the last day of the show but it proved to be a bad idea. Sales reps were grumpy because (and I am sorry to say this) of stupid people. Some visitors thought that 5.11 will sell their stuff at the end of the show so people stormed the booth like if it was a Black Friday sale. This was going on in several waves and some waves of lemmings caused the security to show up on horseback and stomp them to the ground (just kidding). But seriously if you're going on a trade show I understand you buy some precision ammo or equipment under the shelf but doing this over 5.11 is pathetic.

After all the negative memories it was time to visit some friends who I never actually met before. Mil-Force and PDI are long time friends of our magazine so it was about time to finally meet them face to face. Optimus Prime already did the introduction over an email so the Mil-Force staff was waiting for me. Mil-Force teamed up with Airsoft One from Belgium who is their retailer in Europe.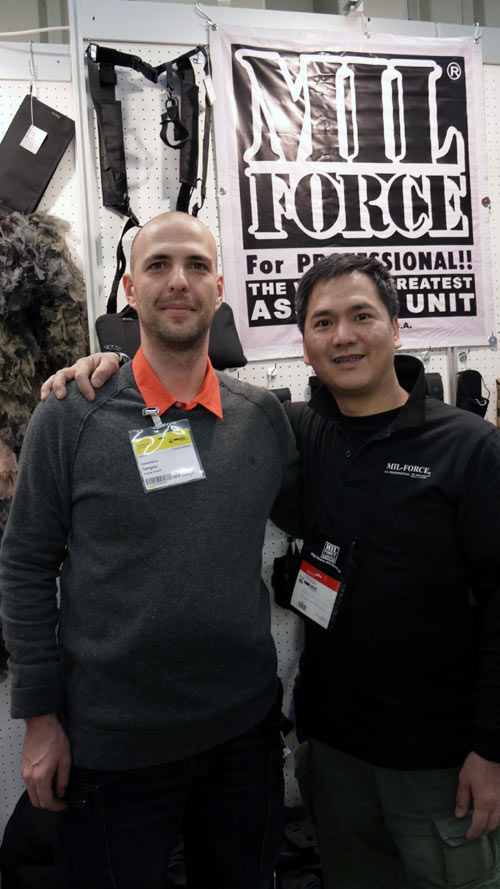 Mil-Force is widely known in the airsoft community as the makers of affordable and reliable gear. Leo Kung and Emily kindly showed me their latest products starting with a vest/chest rig which comes with weapon retainer. This retainer serves as your one-point sling and it is attached to the back of the vest. As you can see it on the pictures this vest has plenty of pouches and pockets to stash your goodies and I especially like the admin pouch and dual pistol mag pouch on the top front. The close up picture will show you that the whole thing is indeed the usual Mil-Force quality.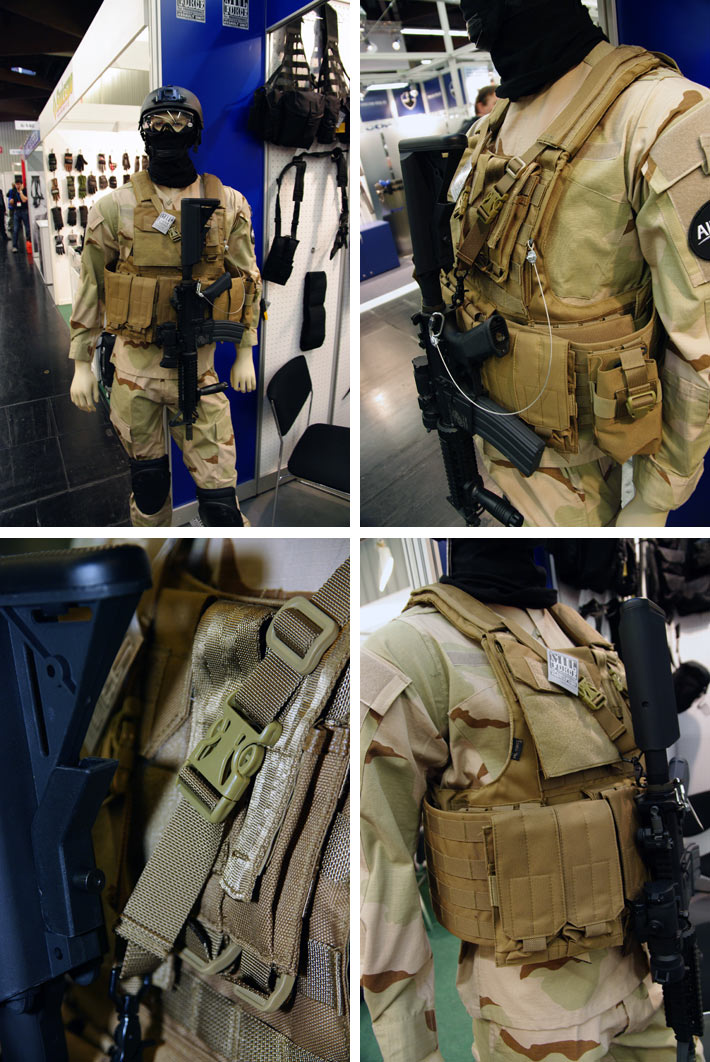 Next up was the coyote brown two-day backpack with MOLLE front and sides which is also a recent product just like dual 2x mag pouch with multicam-like color pattern. Expect more and more pouches popping up with this pattern as the demand rises over the Multicam. A dump pouch with the same pattern was already displayed right above the new butt stock sniper pouch (right handed version only).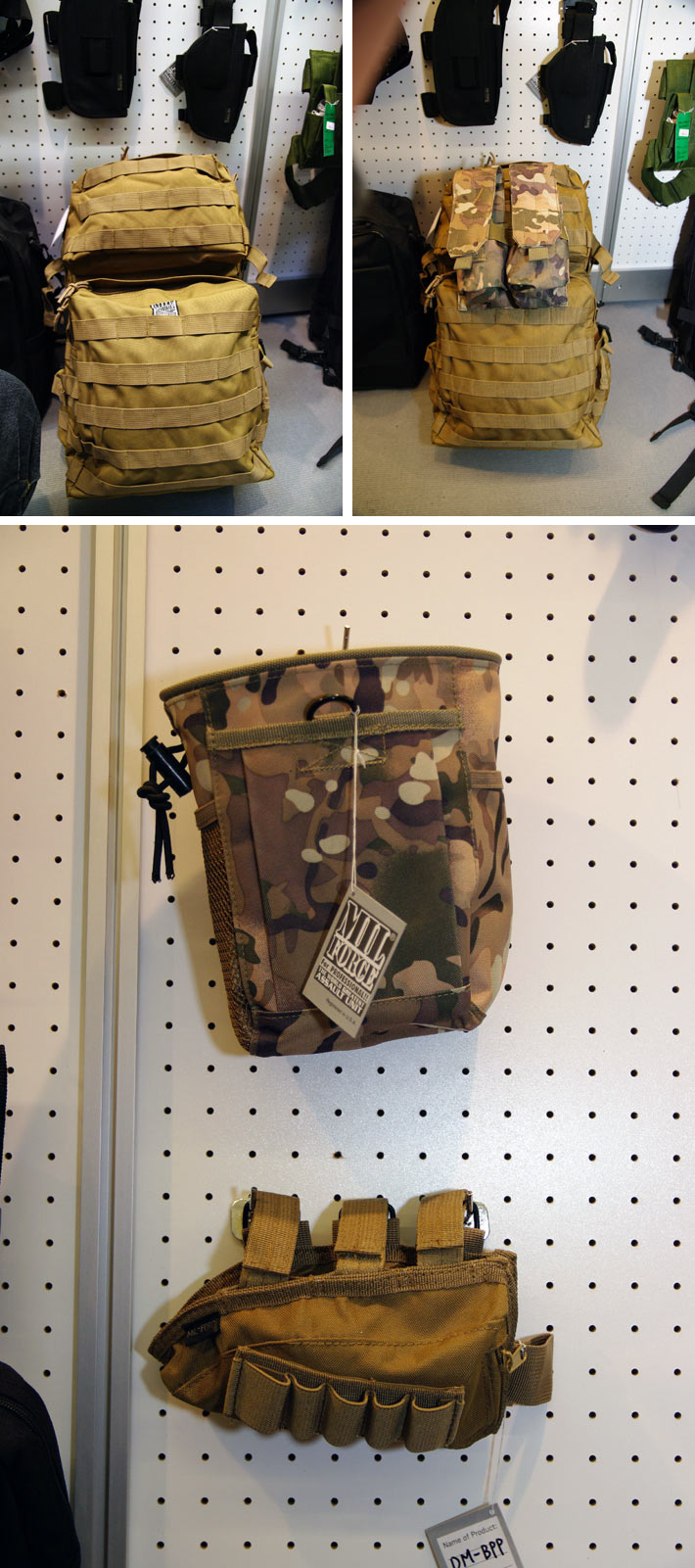 Their Desert Eagle holster is probably the most spacious one I've ever seen and it allows you to holster a silenced Desert Eagle with light or laser attached under the barrel in case your legs are strong enought to carry gazillion tons during a war game. Last but not least, there is something for travelers and PMCs alike: secret money belt which wraps around your waist between underwear and pants so no one will find your money when you are getting mugged but if you're wearing the latest 5.11 pants then the lemmings I mentioned earlier will probably want them with your money and then the secret will be revealed. I spent great time at their booth and I would like to thank the Mil-Force stuff for their warm welcome and kindness.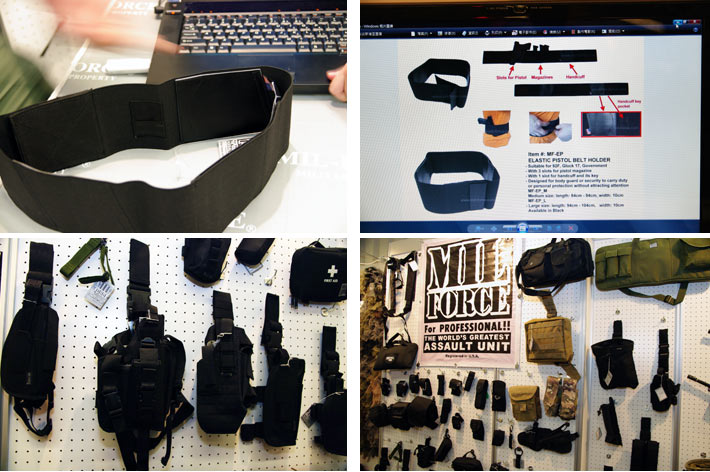 The Blackhawk! lineup is closer to my heart than 5.11's. I was surprised that I found their booth at all because last time I heard is that the brand will be sold but I couldn't confirm these rumours during my visit. Hiking shoes for PMC administrators were highlighted as new products from the company.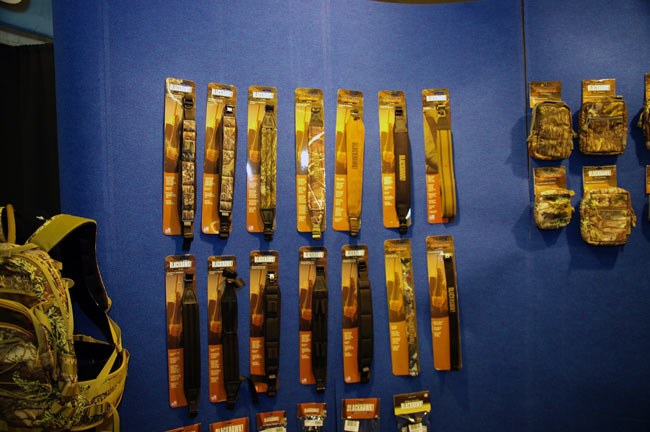 I was sorry to hear that Blackhawk ditched the Vibram sole, probably they wanted it cheaper and without the license, who knows. The most interesting they offer is the triple layer solution which includes a softshell a fleece jacket and a hardshell and the first two can serve as an inlay for the hardshell (they are all sold separately). The hardshell got a matching pair of pants too with reinforced knees but bottoms and inner side of legs aren't reinforced.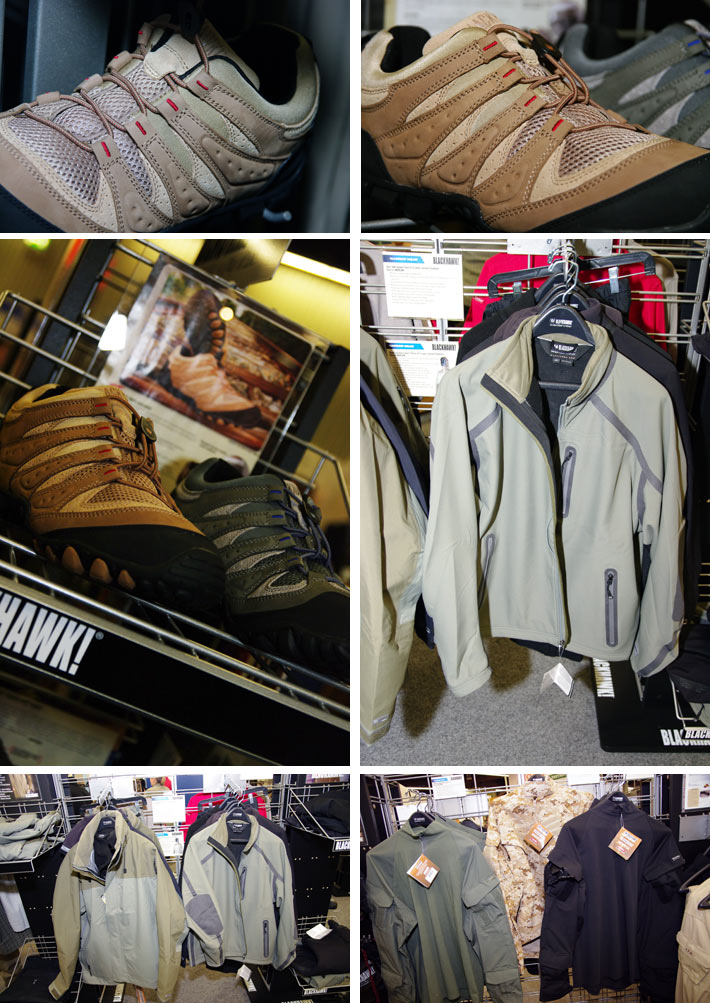 Also heavy duty plate carrier solutions were on display as well just like backpacks, shooting mats, slings and entry tools. The Director of Marketing was very informative and they know about the existence of airsoft and they frequently receive feedback from our community. I would like to meet the guy who sent them an email asking for a cut finger operator glove. Seriously, you can't cut off the finger yourself? But I got a message for you from Blackhawk: they will have a cut finger solution, but you forgot to tell them that you are right or left handed.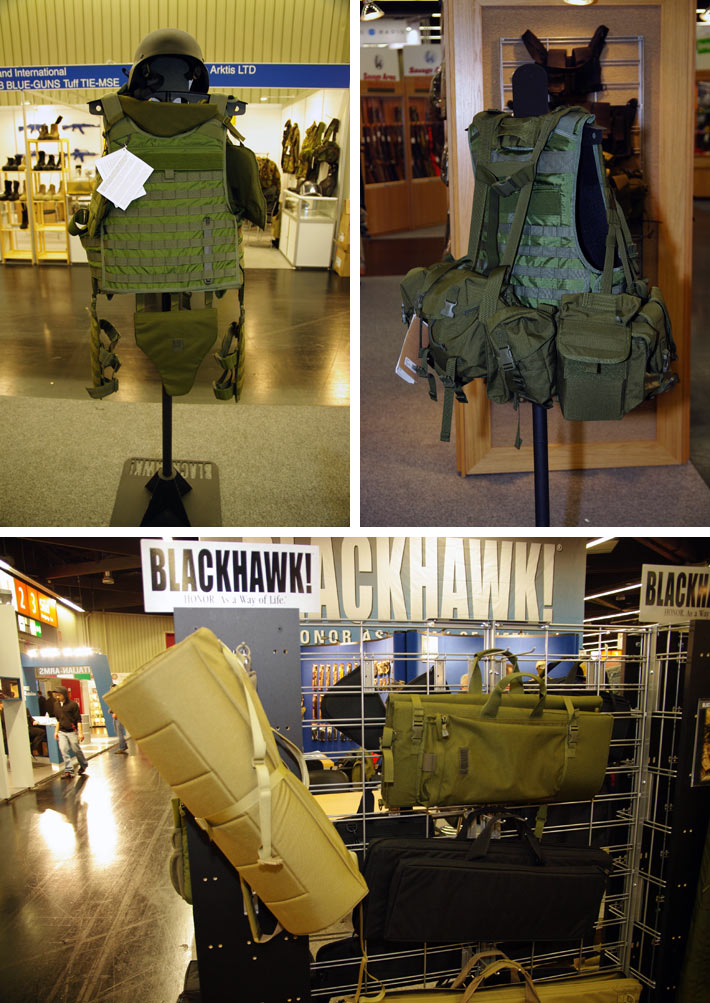 ITW Nexus can be familiar to all of you who ever tried to replace a plastic buckle on their vest or pouch. This company is one of the world leaders on the field of buckles, interlocks, rivets and other plastic parts. Pretty quietly they had Fast Mags on display in 4 different colors but only these won't make the little booth interesting. Attention GBB users: protecting your expensive  magazines just became easier and more stylish! The US branch of ITW just came up with a rubber sleeve what you can slide over your mags protecting it from damages during CQB games. The sales rep couldn't confirm the arrival date nor the MSRP but it will be available soon in the EU and US. It will come out in at least 5 color options: some kind of camo (like the one on the picture), sage, OD, black, Tan. It provides firm grip, enough protection and works perfectly with fast mags. Sometimes the smallest booths are holding the biggest value.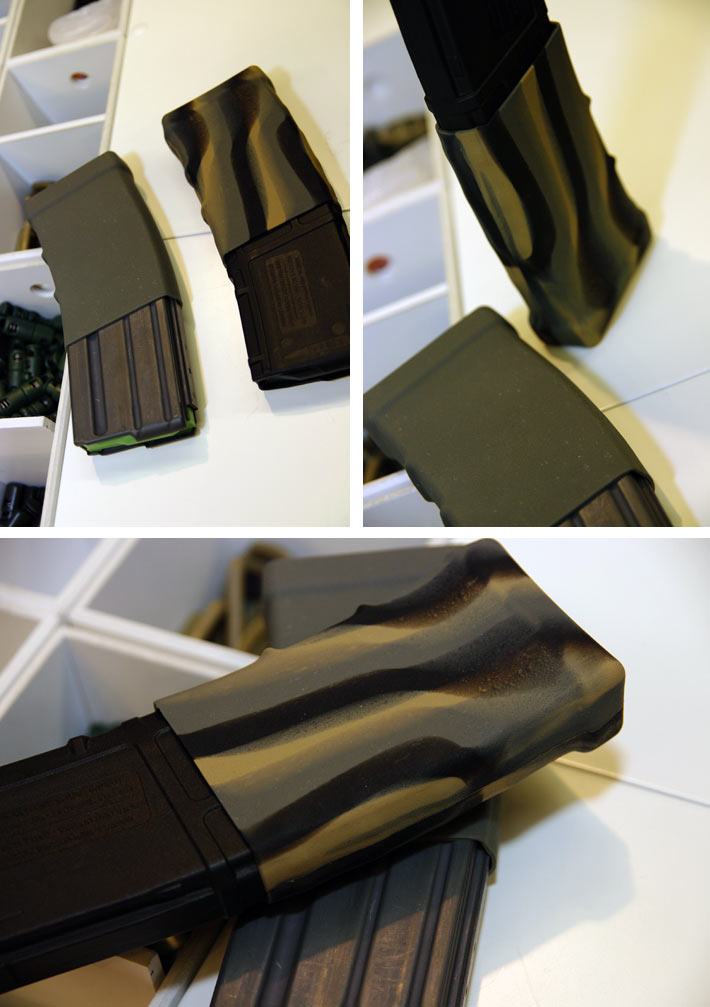 The EU distributor is located in Italy. I am planning to contact ITW's operations manager and get more details for you guys pretty soon, and maybe I can get a couple of sample units what we can try on different brand magazines.
One of the "poshest" showroom belonged to Vega Holster and the whole place looked like a fashion accessories boutique and not a tactical accessories showroom. The Italian staff was too busy laughing around and drinking coffee but I didn't blame them since it was the last day of the fair. I cannot serve you any details really so I'll let you figure it all out based on the pictures.

At TruSpec I found this soft mask what can be interesting for some although I have no idea how it works when you actually start breathing under the neoprene. The idea itself deserves a cookie at least. It would be great to have any info on it just to see how it works because I prefer soft masks over hard ones but ventilation with these ain't easy.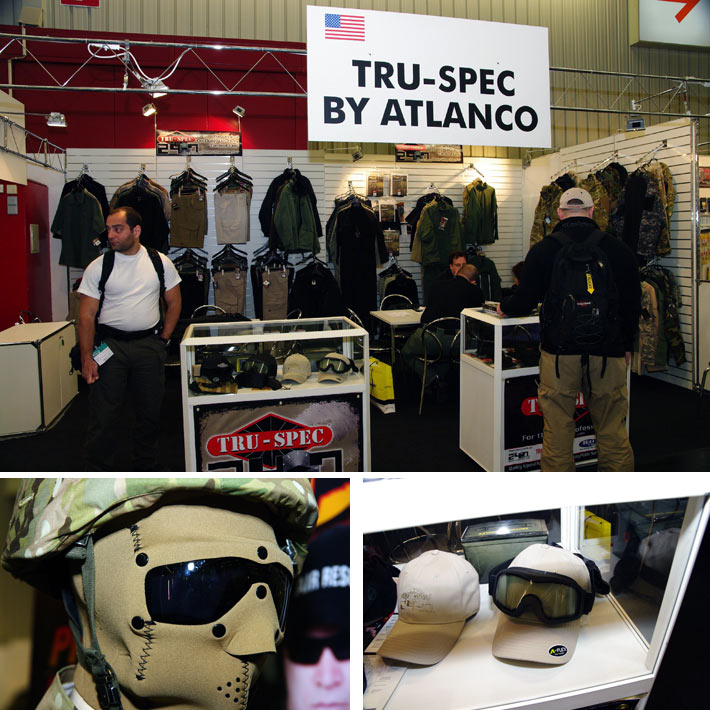 When I say Aimpoint then you say red dot for M4 and M16. Well, in Sweden they think totally different. I was expecting an showroom full of US camouflage and pictures of US soldiers with their standard issue firearm. Although they had a couple of blue plastic M4s equipped with the sights we all know, they weren't the main attraction there. Aimpoint focused on their latest line of red dots: the Hunter.


First, I thought these are finally low powered compact scopes but they're just awful long and unusually looking red dot sights with various optic diameters. Two large screens displaying images of red dot massacre. Award winning shooters were scoring wild boars and other cute animals with nothing but red dot. The Aimpoint sales rep explained that a powered scope will only confuse you because of the parallax issue, and all the Aimpoint red dots are parallax free and can be accurately used up to 300 yards (of course if you know your trajectory). Majority of the shots during hunting occur between 50 and 150 yards and this is the ideal range for a parallax-free red dot. The brightness/dot size can be adjusted with the two rubber buttons on the top of the scope and of course the slogan of Aimpoint lives here as well: Always On Always Ready.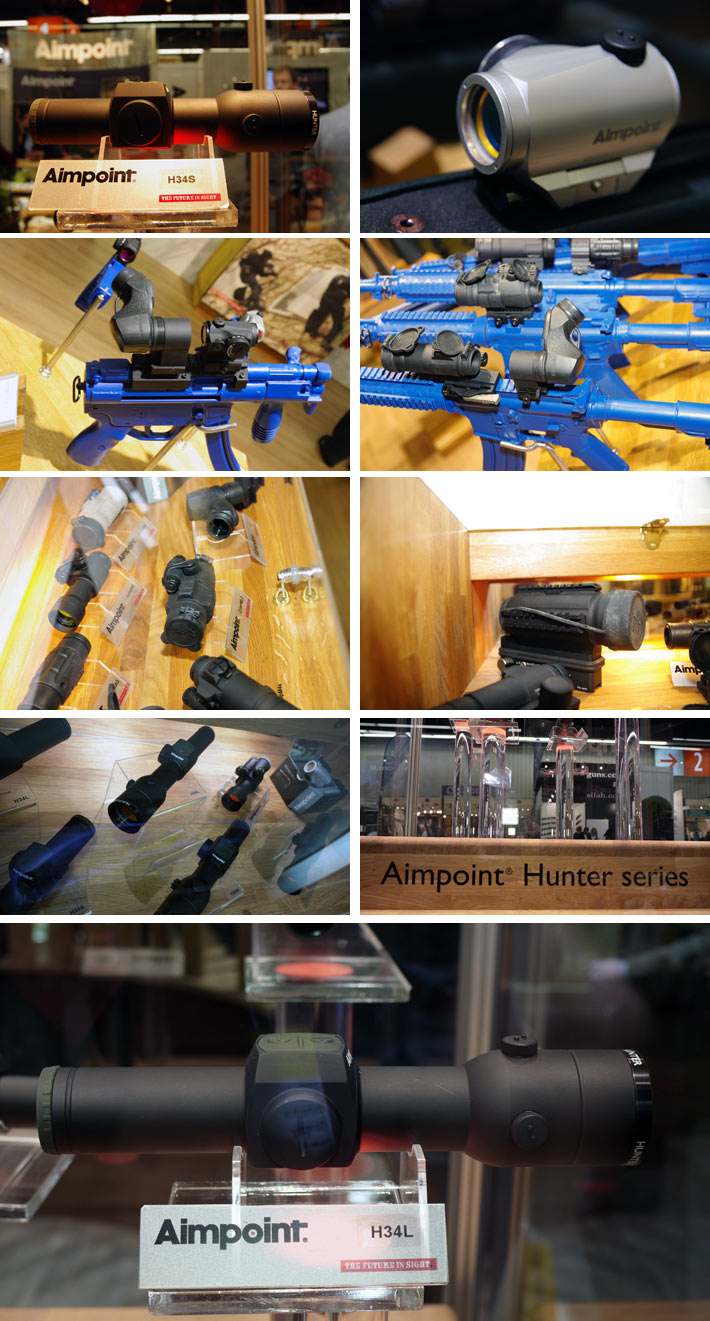 Battery life is another great advantage of Aimpoint optics, just imagine not turning your red dot off after a game and it still serves you the next weekend and the next one, and for about a year. Now that you know all this it's time to sell the family silver to buy one.
Speaking of optics I had to check an lower priced segment as well and that was Burris. I really wanted to check their fixed 3x powered AR compact scope but that was the only thing the company forgot to wrap up before they left the warehouse. I couldn't really do anything with the rest because their open turret versions are still too expensive for airsoft use and I already own a FastFire reflex. I was standing there for at least 10 minutes without anyone showing up but then again: no one tends to care a couple of hours before closing so I have no other info for you other than the Burris website would tell you.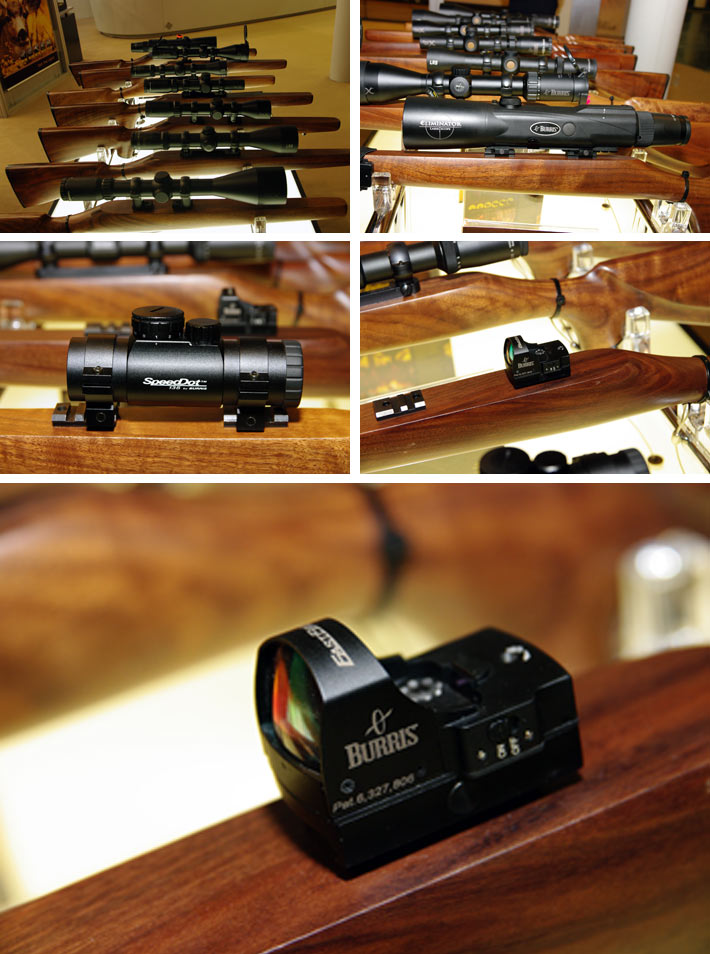 Let's get back to airsoft related things and see what PDI brought to the show. 
First I thought I was at a wrong booth because there wasn't only airsoft. I did not know that PDI also got contract with the Japan government and major companies for industrial security. Remote controlled markers and industrial cannons filled up one side of the PDI booth. Tomo quickly explained the situation and guided me to the other half of his place where I was able to see the excellent work that he does.


The main thing about his work is tolerance and that tolerance is as close to zero as possible. His stainless steel inner barrels are well known for their outstanding precision. He also offers three different kind of high quality cylinders for bolt action rifles. We agreed that Popular Airsoft will test his inner parts in an L96 later on and he urged us to face his inner barrel with a well known brand so expect to read about this Japanese brand in our magazine. Tomo is capable to make anything by request and it can be an external part as well. His front end kit showed excellent quality in both machining and anodizing.


He said that he achieved great result in getting the same color back every time regardless the size of the parts and the quantity he makes. Tomo gave me a lot of advice how can I best keep my fps constant. He is more like a bolt action guy while I am an AEG dude so we both had stuff to share but his knowledge certainly overpowered mine. I hope one day I can live with his invitation and visit him in the land of the precise.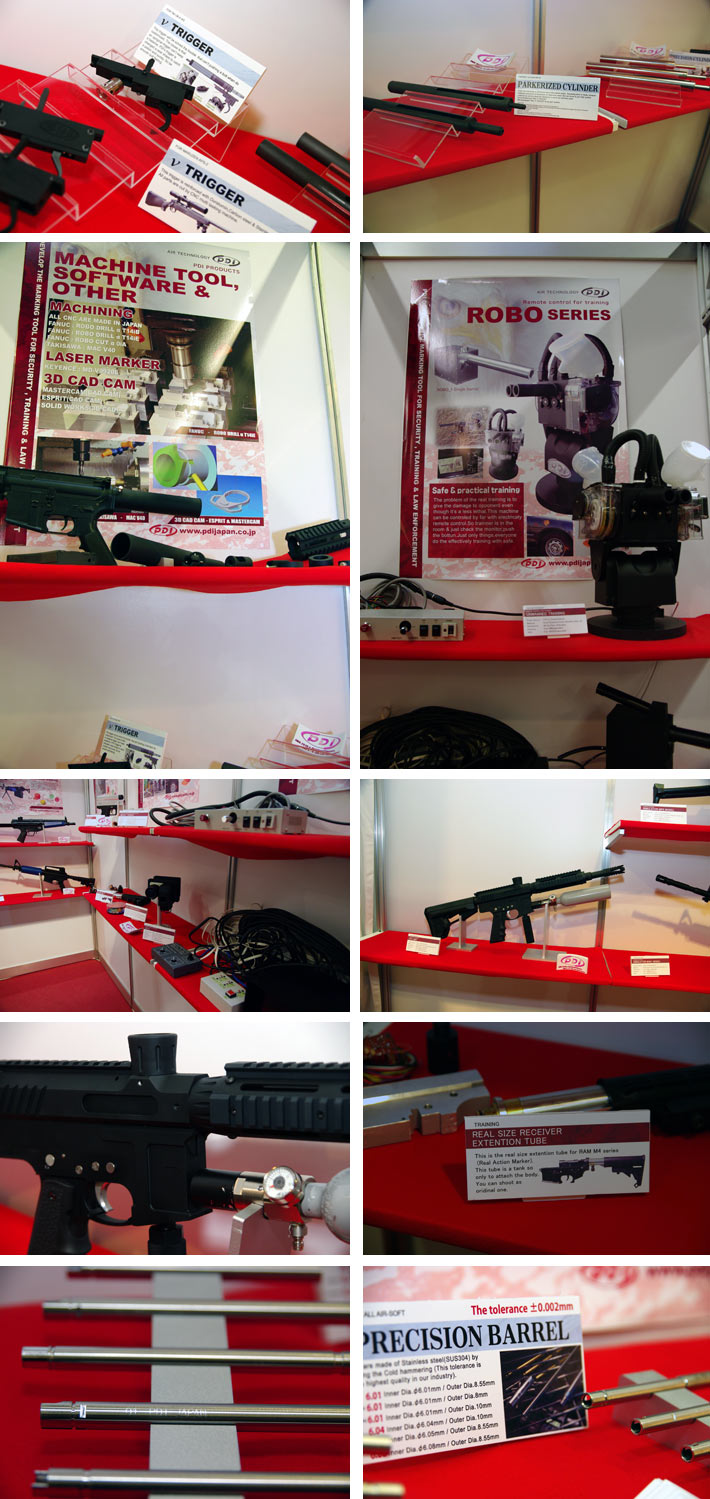 Quality eye protection is very important when BBs flying around. While cheaper knock offs will protect you against BBs but on the other hand they either give you bad game experience (extensive fogging or uncomfortable) or they not optically correct and extensive use will damage the eyes.


One of the leaders in quality eye protection is Revision and their Desert Locust is the best known and most worn by airsofters. Revision brought their latest goggle with a strange name: Wolfspider. It is slightly slicker than than the Locust with improved field of view and even lower profile. The bad news is: the MSRP is over $150. The selling point here is the improved ballistic protection which is 3x the ANSI standard. This new goggle is capable of stopping a ¼ inch steel ball traveling 888f/s.


This might be overkill for airsoft so I will stay with my Locust and just order some replacement lenses. Other than the Wolfspider, the displays had the full line of the Revision products plus some eye candy. There was a full face, helmet mount protective solution on display which looked quite impressive so as the goggle shields with bullet marks on them.


It's a nice effort from Revision to show up at IWA with their own booth and not just sending a retailer who knows nothing about the company itself, but Jillian, the Director of Market Development was kind enough to give me all the information I needed.


Revision knows that airsoft players like the Locust and GI imitators often wear it on war games, now we just need to tell them to offer a cheaper Wolfspider without the extreme ballistic protection so we can still aford it. To cheer me up Jillian gave me some re-usable dry clothes what will help to keep my Locust fog free. I hope I can find some time over the weekend to try these.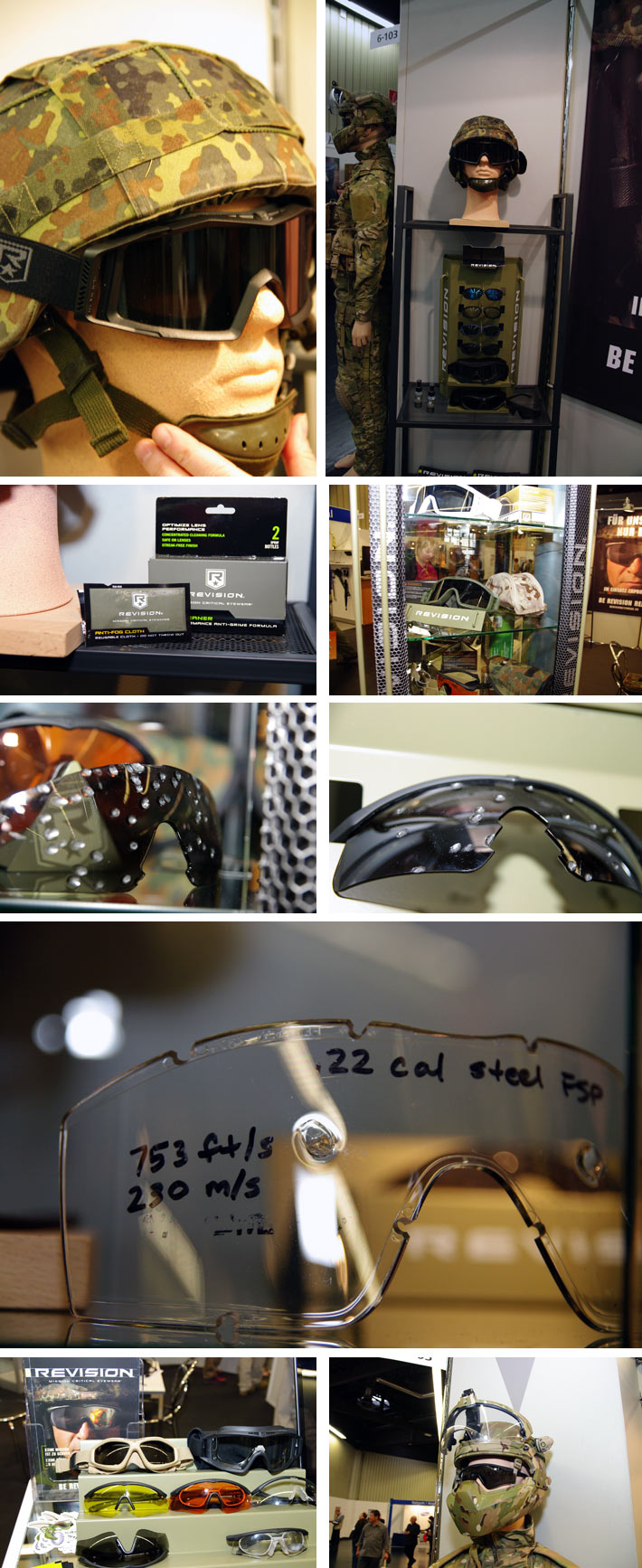 Wiley X jumped on the laser protective lens issue with their new shooters glass. The US Military has a rising number of eye injuries caused by aiming devices like PEQ boxes and some of these injuries caused permament eye sight loss. First ESS came out with a laser protective goggles and their website even shows the wavelengths what the glass will filter. As of the Wiley X it's a secret and you have to be a government official to find out but I am guessing they make them by request and based on wavelengths used by the ordering unit. The new shooter glass has civilian version as well and it comes with smoke, clear and light rust (not amber!) lenses.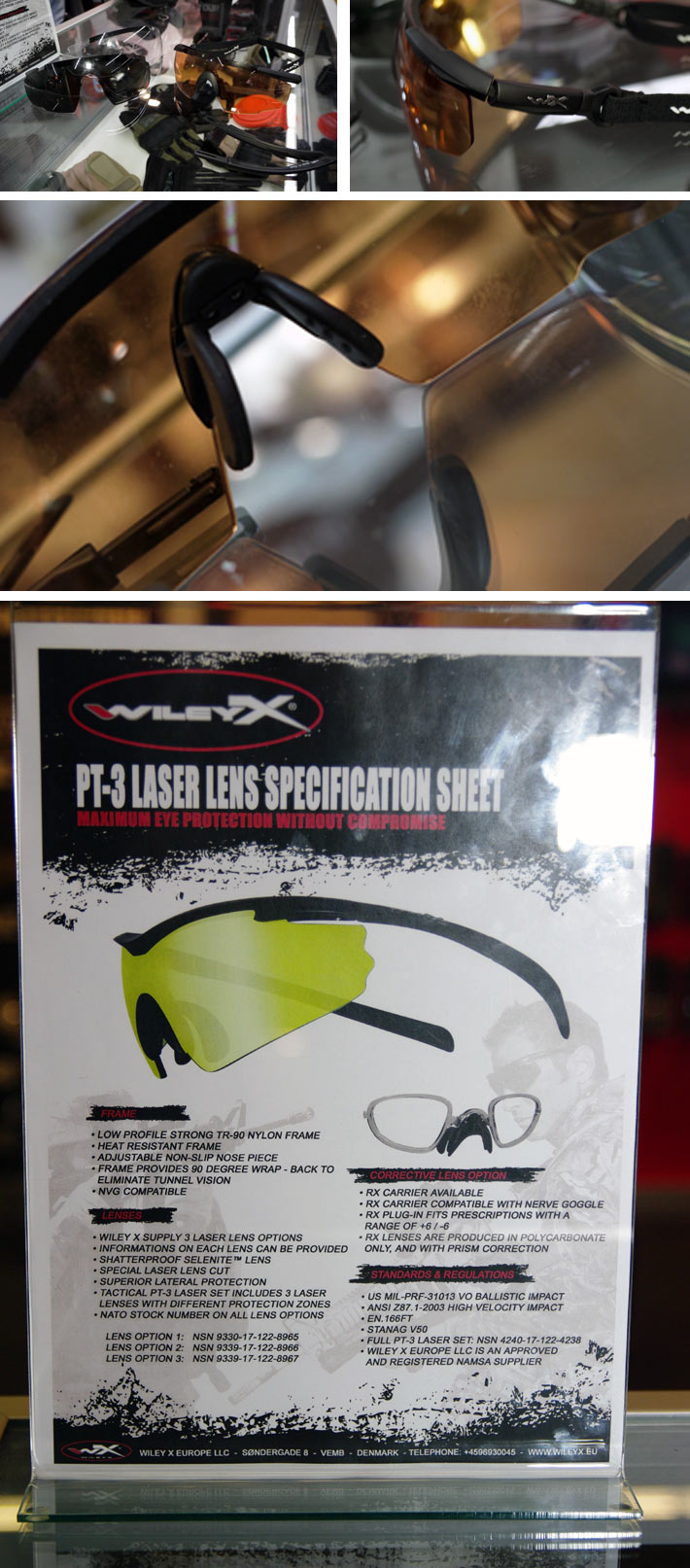 How many people want to know the latest KRISS/Airsoft rumors? We hope there will be some hints down the line. Optimus Prime is actually impatient now as there has not been an airsoft replica of this in production.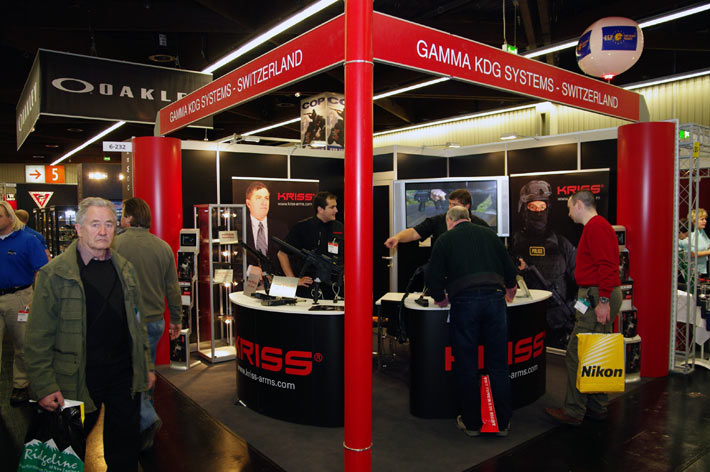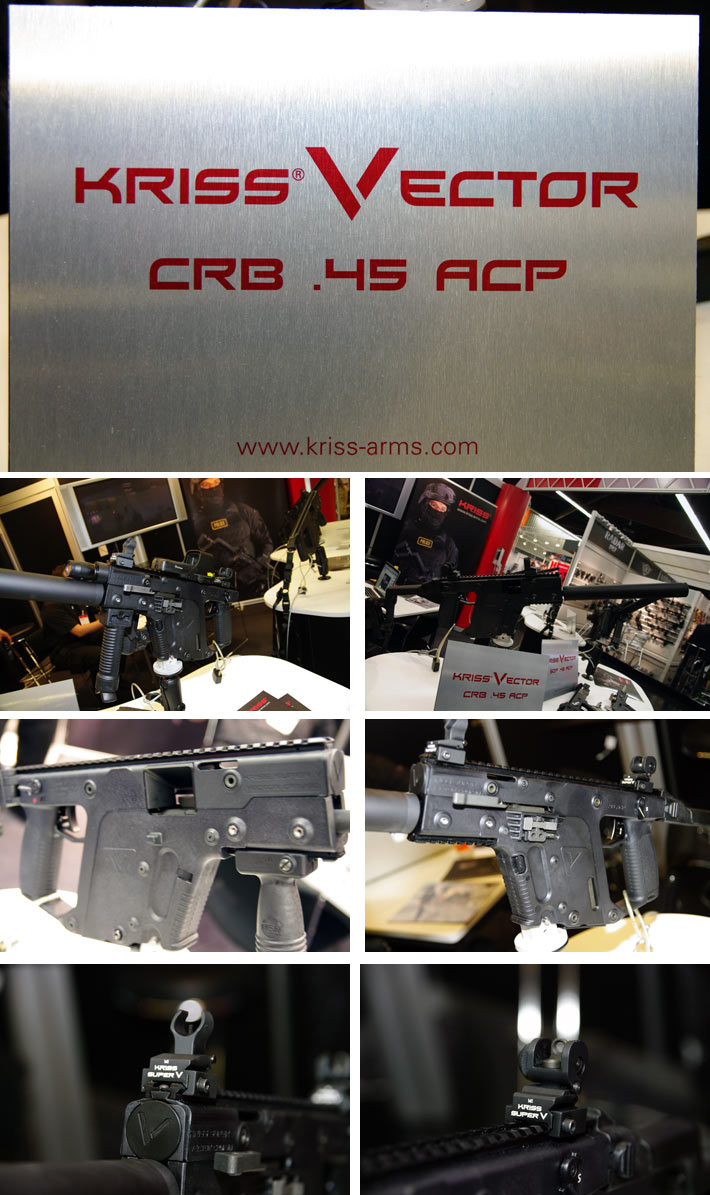 I could easily take care of Leapers like this: 4x32 compact scope with MSRP of $17!! But my life isn't that easy because Mr. Xie bombarded me with loads of info. This brand is known well in the US as the maker of entry level tactical accessories.


Usually I'd say I won't trust a scope that cheap but it's only airsoft so if it works then give it to me cheap and Leapers usually works and this is why they are still in business. Their accessories are made for real steel but most of them can be used on airsoft as well. Their all time best seller (last year 2,000 a month) is a 30mm red dot usually sells for $25.


They have dozens of different scopes: one for everyone. Their longest eye relief scope is 5.5 inch, their highest powered scope is 50x, they have a red dot with detachable 2x zoom. Compact scopes and dots will come with two (!!!) different height ring mounts.


While the Leapers scopes won't look like Trijicons or Aimpoint but they are surely work and probably they are the cheapest ones. Leapers flashlights were news to me, but Mr. Xie brought me up to speed very quick. LED and regular powered flashlights are both available although only LED lights were on display. All the LED lights are regulated to provide long runtimes and cool surface. Weapon mount ring and pressure switch included with the bigger models.


The biggest thing here probably the grip+flashlight solution. Made out of aluminum, serves as a front grip on 20mm rails and the front side has a decent LED light. Leapers pistol flash lights are equipped with a rotating plate (instead of a flip switch) what will act as an on/off switch. You still want some more? An aluminum 7 inch quad rail for M4 priced at $64 sounds pretty convincing for me. These rails will be available in four colors. Just hit up www.leapers.com if you still need something else.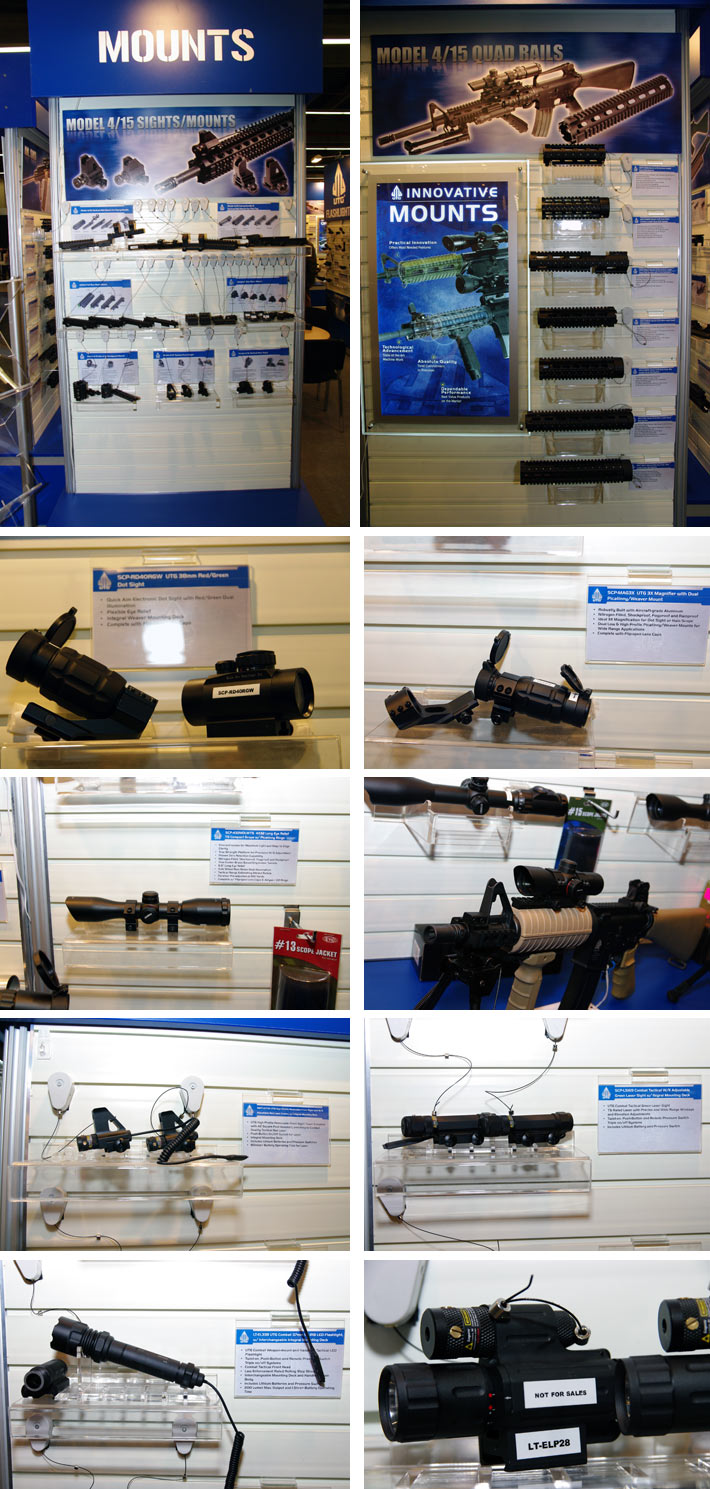 The last day was intense and I still couldn't check out all the things I planned in advance. The next I know everyone was packing up and the whole thing was over quicker than it started.


I was fortunate enough to enjoy nice people's company like Whistler and the SRC crew, 0.20 Magazine crew, Smog Baden team, Mil-Force team, Airsoft Innovations and of course the TWINS.


See you guys next year!