For a better shopping experience at RSOV.com, you might want to try this new service and for its introduction, they are giving 9% off products at the website... "Dear Sir, We are happy to introduce our new express shopping system 'RSOV Express®' which is a subsidiary page of 'RSOV.com' providing the same professional services and sharing the huge inventory supplies.
Shopping at 'RSOV Express®' your privacy can be further protected without the need of creating account and with just a few clicks your order can be done!


All prices on 'RSOV Express®' are included shipping and handling charges (Incl. S&H) so is clear and easy to know how much you should pay in total.


Here is the URL of the new 'RSOV Express®' system which is under the domain of www.RSOV.com  (click on the screenshot below):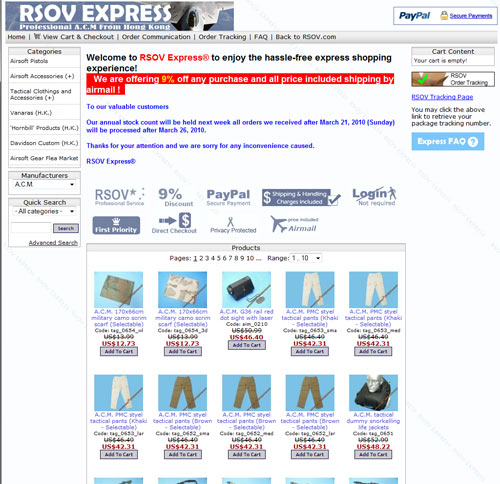 As a special thanks to your support of RSOV.com we are offering 9% off everything on 'RSOV Express®'! We hope you enjoy the new express shopping system and we will sure work hard to improve our services so to serve our customers better in the future.


We thank you again for your support from the bottom of our hearts.


Keith

CEO

www.RSOV.com"