KWA AK74M GBB October 2012 Release
: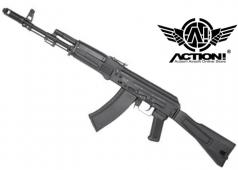 Action Airsoft Online Store have announced that the KWA AK74M Gas Blowback Rifle will be released in Taiwan by the end of October 2012 as repoted by
Public Enemy
. It is now currently in intensive production. The Taiwanese and U.S. Markets will have the steel bolt as standard part of the product with price estimated to be at NT$12,800 (US$437 as of today's exchange rates).