Gunsmith Baton HK416 Shell Ejecting EBB
:
Gunsmith Baton HK416 Shell Ejecting EBB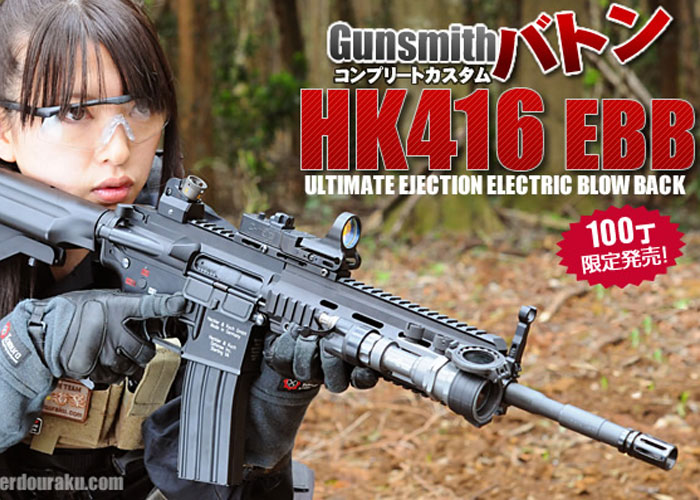 This is an interesting review by
Hyperdouraku
on this customised HK416 Shell Ejecting Electric Blowback Rifle made by Gunsmith Baton, a Japanese airsoft shop that is also well known to specialise in ACM guns in Japan. The base gun for this work is the Top Airsoft M4 Shell Ejecting EBB, a highly recommended prop gun and good for airsoft players who want a little bit more realism in their in-game videos.
It was not mentioned what HK416 kit they used to convert the Top Japan M4 EBB, but Yas mentions that the finished parts are good, and material is aluminium. The body has full HK416 markings. This custom AEG EBB is powered by an 11.1v 850Mah battery via a Lipoly tube stock and does not use the stock of the Top AEG. Access to the battery tube is via the removable buttstock pad, just like in other HK416 AEGs in the market today that do not use PEQ-type airsoft battery boxes.
You can read
the full review here
, and if you are interested in having one made for yourself, you can go check the custom
HK416 EBB at the Gunsmith Baton site
and price is JPY79,980.00 or US$996.00 at current exchange rates and do not yet include shipping costs.
More photos and video of the AEG in slow-mo shown below: