If you're reading this at the office, better close the browser quick! It's not recommended reading for minors either. But if you're an adult and not at the workplace, then you're safe to continue reading this. Fortunately for us, we can read this at work, since, er, it's part of our work at Popular Airsoft. It's just a matter of self control of not staring too long at the monitor before our tongues touch the floor.
Before the year ends, why not part with some of your money for a good cause and you still get a copy of the Hot Shots 2011 Calendar? Commissioned by the Edgar Brothers, one of the oldest suppliers of shooting and tactical products in the UK, this is also a project with a worthy purpose. For the 2011 Calendar, they have more "tactical models" for all the guys who grab their latest calendar. Edgar Brothers promise that 50% of the proceeds will be donated to the Help for Heroes, the UK Charity for wounded veterans.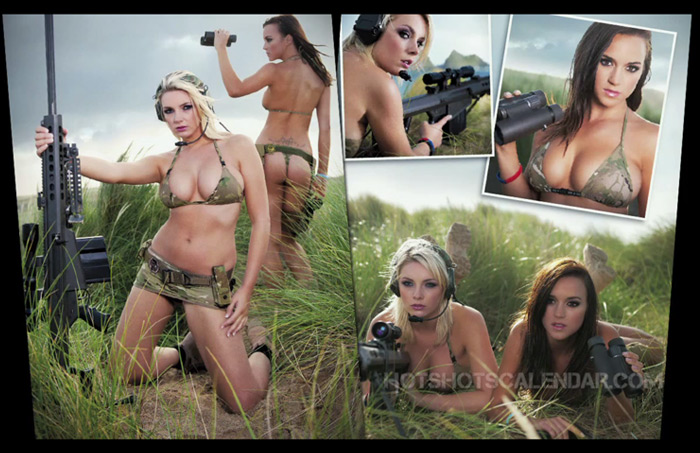 Even before buying a copy of the calendar, and if you are 18 years and above, you can have a view of their on location shoots, giving a treat to watch the models who participated in the photoshoot "behind the scenes". The location shoots were done in different areas, so that means you get to see the models suited up (if you call it that) for the terrain.



[youtube http://www.youtube.com/watch?v=anhgRPrG0qM&fs=1&hl=en_US&rel=0&hd=1]

The Calendar is available for anyone interested, and is not limited to the UK. For UK customers, the calendars cost £9.99, VAT included without postage. I suggest that you better order your copy now before the VAT hits 20% by the start of the next year.
All gorgeous, all-terrain, all deadly to the eyes, with this calendar, you still help the wounded veterans. I guess I'll have to whip out my wallet now.